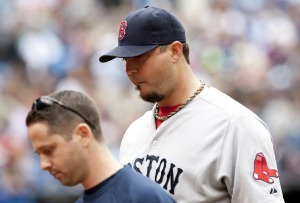 By Evan Brunell

Josh Beckett
left Monday's game with what was thought to be a sprained right ankle -- except it's not.
No one quite knows what the actual injury is, so a timetable can't be brought to bear until the correct diagnosis, which Beckett hopes he will get when seeing foot specialist Dr. George Theodore on Tuesday back in Boston.
"It felt like it was locked up and then it popped in and out of socket or something, I don't know," Beckett explained to WEEI, saying this is an injury he's never experienced before. "It was definitely a definitive feeling for my ankle."
Beckett, who is notorious for holding onto the ball for inordinate amounts of time when pitching, said he usually likes to hurry up and deliver the next pitch when he feels injured, but couldn't even do that after the injury, which could result in him behind out for the year or making his next start.
"I don't know," said Beckett about the injury. "I've never had anything like this. I could wake up tomorrow and feel like playing basketball. We'll just see."
It's a sobering injury to happen to Beckett, who was enjoying a renaissance season that could end up being a career-best. Through 27 starts, Beckett has a 2.49 ERA in 173 2/3 innings, which would have put him on target to potentially eclipse his career-high in innings pitched, set in 2009 when he threw 214 innings. By this time of the season in '09, Beckett was at 181 1/3.
The Red Sox's rotation may be falling apart at the wrong time. The team already lost Clay Buchholz to a back issue that has kept him out since mid-June. He's trying to make it back as a reliever, but may run out of time. Daisuke Matsuzaka, of course, is out for the year with Tommy John surgery while Tim Wakefield and Andrew Miller have been fairly poor fill-ins. Then you have John Lackey, who is beating A.J. Burnett out for title of worst five-year deal given to a free-agent pitcher in the AL East. Meanwhile, Erik Bedard's next start is being skipped due to a MCL sprain in his right knee, which caused him to miss a month earlier this year. Without Beckett, that leaves just Jon Lester as an arm to rely on.
Boston has been one of the best teams all season long, but has started slipping behind in the AL East race. While Boston will make the playoffs regardless thanks to the wild card, they could be bounced in the first round unless the rotation comes together quickly.
For more baseball news, rumors and analysis, follow @EyeonBaseball on Twitter or subscribe to the RSS feed.