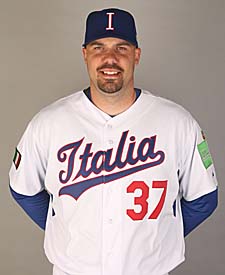 By Matt Snyder
The
Mets
have promoted first baseman Valentino Pascucci from Triple-A Buffalo to join the big-league club, the team announced Monday night. This normally wouldn't be especially newsworthy, as Pascucci is a 32 year old who hit .259/.370/.473 in the minors this season, but Pascucci's story makes it quite interesting. He's been in the majors before -- back in 2004 -- as a member of the
Montreal Expos
.
Pascucci's stint with the Expos didn't go well, as he hit .177 with a .588 OPS. Still, that was seven years ago and he only got 74 plate appearances. At 6-foot-6, 270 pounds, Pascucci's power should be real. He hit 21 homers in 129 Triple-A games this season, so he'll bring some punch to the Mets for the rest of the 2011 season. Who knows, maybe he'll parlay this gig into a Matt Stairs-like pinch-hitting role for the next several years (to clarify, it's very doubtful Pascucci could amass the same numbers as Stairs -- I'm just saying maybe he lands in the sort of role Stairs had the past three to four seasons).
Regardless, it's still a great story that he's back to the bigs. After his 2004 campaign, Pascucci spent two seasons in Japan. Upon his return, he spent time with five different organizations before having to join up with an Independent club in 2010. The Mets then signed Pascucci from the Indy team 14 games into the 2010 season for his second stint with the the organization.
So after all that, Pescucci is returning to the majors for the first time since playing for a now-defunct team.
For more baseball news, rumors and analysis, follow @EyeOnBaseball on Twitter or subscribe to the RSS feed.