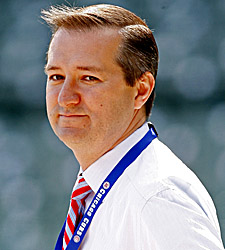 By Matt Snyder
Having
fired Jim Hendry
, the
Cubs
have a vacancy at general manager and chairman Tom Ricketts
reportedly has his eye on a number of high-profile candidates
. Well, he can kiss any chance of getting one goodbye now. Over the weekend, news broke that the Cubs had "quietly" extended the contract of personnel director Oneri Fleita (
ChicagoTribune.com
), who oversees the minor-league operations and international scouting.
In and of itself, this wouldn't be a bad move. Many within the organization are said to respect Fleita's work and the farm system has improved under his watch, according to most outlets that rank such things. Then again, it's not like the Cubs have a
Royals
-like farm system at this point and Fleita's been on the job for four years. One report indicated Ricketts' hand may have been forced, as the
Tigers
were courting Fleita (
ESPN Chicago
).
Still, Ricketts has no general manager and that has to be a higher priority than retaining Fleita and possibly turning away potential general managers. The director of player personnel is one of the spots some of the high profile GMs would likely want to fill themselves. If nothing else, don't you at least leave the spot open and recommend Fleita to the new general manager? Instead, Ricketts is going to have to convince potential GMs that his guy is better than theirs. That's a good way to get high-profile GMs to walk away. Even if they like Fleita, there would be the question of having complete control over the organization.
Not that the Cubs had the ability to land them, but for the sake of argument, try to imagine Theo Epstein or Brian Cashman leaving his current situation in order to take over a team that already has a player personnel director firmly in place. It's pretty difficult to envision that happening.
The best guess is Ricketts has taken the possibility of a home-run hire off the table, which only makes the 100-plus years of futility more likely to continue.
For more baseball news, rumors and analysis, follow @EyeOnBaseball on Twitter or subscribe to the RSS feed.