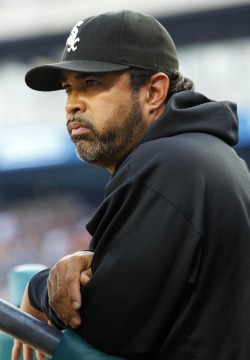 By C. Trent Rosecrans
Today's Ozzie Guillen update: the White Sox manager says he wants to stay in Chicago.
Before Sunday night's game, Guillen was asked about his "strength of conviction to return." His answer:
"Two-thousand percent," Guillen said (MLB.com). "That's the talk about dinner, lunch, sleep, everything. This is the talk with my family. And we never change one bit. All my time, my desire, everything has been Chicago.
"See this White Sox logo? I'm part of that. I wish I could be in the Hall of Fame one time, so I could wear this freaking uniform. That's how much I love this organization."
Guillen said he's not sure what he would do if he was asked to change his coaching staff.
On Saturday, the Chicago Sun-Times reported general manager Kenny Williams had an argument with hitting coach Greg Walker. Earlier in the week the newspaper reported that Guillen and Williams' relationship was "beyond repair" and then Guillen said he wouldn't manage next season without an extension. Guillen is under contract for 2012.
Without meaningful games to be played to take the attention away from Guillen's future (the White Sox are fading fast in the American League Central), and that question may not be answered quickly. The big question is if Guillen will go -- or the White Sox will let him go -- to the Marlins, who open a new ballpark in 2012 and their current manager, Jack McKeon, reportedly will not return next season.
For more baseball news, rumors and analysis, follow @eyeonbaseball on Twitter or subscribe to the RSS feed.