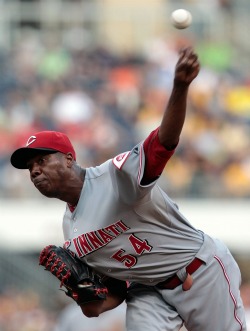 By Evan Brunell

Reds
pitching coach Bryan Price believes
Aroldis Chapman
will eventually start, perhaps as early as next season.
"I can't guarantee anything because it will be an organizational decision," Price told the
Cincinnati Enquirer
. "However, I do think at some point he's going to have a chance to start. I think it's something we will definitely be looking at."
Chapman is in his first full season in the majors, after finishing out 2010 as a reliever in the bigs. He has a 3.89 ERA in 41 1/2 innings, punching out 62 and walking 34. The lefty had a bout of control issues earlier in the year that resulted in a phantom DL move to get him work in the minors. Since returning, he has a 2.51 ERA in 28 2/3 innings, whiffing 47 and walking 14.
"He's filled a need for us," Price said. "He helped last year late in the season and this year as the second left-hander to Billy Bray. That was a void. But I would think in the near future he'll be getting an opportunity to start. That was the intent when we initially signed him."
Price believes Chapman could succeed even more as a starter, as it would allow Price to work with the Cuban defector in-between starts on improving his game.
"Right now, he's pitching pretty much fastball, slider and attacking the zone," Price noted. "He's been really good commanding the zone, working ahead, not spending too much time trying to be right on the corner. He's staying away from the deep counts. He's getting guys where they have to swing."
Despite pitching with just two pitches, Price doesn't believe that would be an issue in a starting capacity.
"Randy Johnson used a change-up, split-fingered pitch later in his career when he lost some velocity more so than early. [Chapman] has a change-up, and I think he has a good change-up," Price said. "To say he needs it, I don't know if I'd say that. However, if it's a serviceable pitch, it's certainly something he would have in his mix."
For more baseball news, rumors and analysis, follow @EyeonBaseball on Twitter or subscribe to the RSS feed.