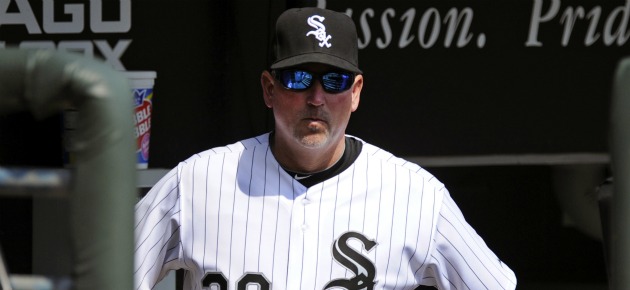 By Evan Brunell

White Sox
GM Kenny Williams and hitting coach Greg Walker had strong words for each other recently, culminating in Williams telling Walker to clean his locker out, the
Chicago Sun-Times
writes.
Walker was reacting to Williams' comments about second baseman
Gordon Beckham
's swing, after the GM said Aug. 19 that he preferred Beckham's swing from the University of Georgia as opposed to the one he has now. When owner Jerry Reinsdorf heard about the spat, he was able to calm everyone down and allow Walker to keep his job.
"I'd rather not comment on it,'' Walker (pictured) said of the incident to the
Sun-Times
, which CBSSports.com's Danny Knobler says happened during the home series against Texas Aug. 19-21. "What goes on in our clubhouse stays in our clubhouse. It's been a very frustrating year for a lot of people.'
The White Sox seem to be devolving into a mess, as manager Ozzie Guillen has been a lightning rod all season. Guillen and Williams have a fractured relationship that caused the skipper to say he would not manage next season, the final year of his deal,
without a contract extension
-- but he may not even make it to next season, as the prevailing opinion is that one of Guillen or Williams, if not both, will be let go after the year. That creates a lot of uncertainty for Guillen's coaches.
"There's an expiration date on all coaches and managers -- and players,'' Walker added. "I had a career as a player and that was over. I'll wait till the end of the year and I'll make a decision -- or they will make a decision. But in a pennant race with guys fighting as hard as they are, the last thing I want is to be is a distraction or become a story."
Reinsdorf is considered a loyal owner and has worked diligently behind the scenes to keep the Williams/Guillen relationship harmonious -- as harmonious as it can possibly be, anyways. But as the season winds to a close in what has been a frustrating year for the White Sox, who remain in striking distance for the division at 6/12 back of Detroit, tempers are starting to boil over, but Walker wants no part of it.
"My goal to come here was not to be a personality. I came here to help players. I am still doing that every day. Sometimes we're not getting the results we desire and that's part of the business. It's been very frustrating for everybody involved and that's all I can say about it," Walker noted. "So far we haven't played well and our department is a big part of it. So yeah, I've been frustrated about it just like everybody else. But I'm not the story. I'm just a hitting coach. It's an important role but in the big picture it's way down the food chain.''
Beckham was a highly-regarded second baseman coming out of college, being selected with the eighth overall pick in the 2008 draft and debuting the following year with a .270/.347/.460 line in 430 plate appearances. Beckham has slid backwards since then, though, and currently has a .231/.291/.330 mark in 460 PA.
"Any high fastball, he could get on top if it with his top hand,'' Williams had said back on Aug. 19, sparking Walker's ire. "But again, as the general manager you sit back and you have to respect the work that your coaches do and you have to respect the desire from the player as to what he thinks will work. I personally liked the swagger and the cock that he had of his wrists and the loading of his hands when he had the previous swing I spoke of.''
For more baseball news, rumors and analysis, follow @EyeonBaseball on Twitter or subscribe to the RSS feed.