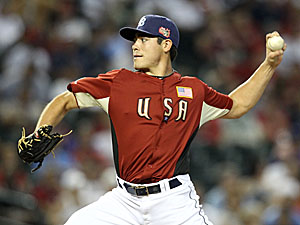 By Matt Snyder
This just in: The Tampa Bay
Rays
churn out quality starting pitching.
James Shields
, 29, is the elder statesman of the current starting rotation -- which also includes
Jeff Niemann
(28),
David Price
(26),
Wade Davis
(25) and
Jeremy Hellickson
(24). When the Rays needed an injury fill-in this season, they went with
Alex Cobb
(23) or
Andy Sonnanstine
(28).
Waiting in the wings is left-hander Matt Moore. He has been steadily rising in prospect rankings since being drafted in the eighth round out of high school in 2007, to the point that
Kevin Goldstein of Baseball Prospectus had Moore as the No. 2 prospect
in all of baseball when he updated his rankings in mid-July. Bryce Harper -- you've heard of him, right? -- was No. 1, which means Moore is regarded at the top pitching prospect in baseball by a highly-respected evaluator.
Moore, 22, is currently in Triple-A, though that season ends in just a few days. With major-league rosters allowed to expand, the Rays have a chance to give Moore a look. But they're not necessarily going to do that, as they're remaining patient.
"I can be patient," Rays manager Joe Maddon said (
MLB.com
). "Whenever people that watch him all the time say that he's ready, I believe it. As a manager being at a distance, I don't try to influence that decision. I don't see it, so I'm sure that time will come, and I'm relatively patient, very patient with that."
That almost sounds like some front office personnel don't believe Moore is ready yet. Either that or they haven't said otherwise to Maddon. There's no hurry, as the Rays' rotation is young and strong. Still, it would be nice to get a look at Moore in September, especially late in the month if the Rays are eliminated from Wild Card contention.
Moore is 3-0 with a 1.35 ERA, 0.94 WHIP and 69 strikeouts in 46 2/3 innings since his promotion to Triple-A. He began the season in Double-A, where he went 8-3 with a 2.20 ERA, 0.94 WHIP and 131 strikeouts in 102 1/3 innings.
Are they
sure
he's not ready?
For more baseball news, rumors and analysis, follow @EyeOnBaseball on Twitter or subscribe to the RSS feed.