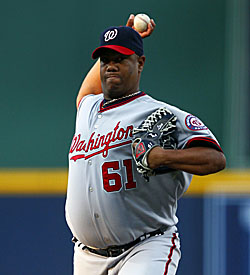 By Matt Snyder
Nationals
starting pitcher
Livan Hernandez
will start Sunday, and it will be his last outing of the season (
William Ladson
via Twitter). He's not hurt and he's not necessarily retiring, but instead Hernandez is stepping aside so future ace -- well, we could really call him the present ace and it wouldn't really be a stretch --
Stephen Strasburg
can join the rotation.
Hernandez was informed that he was being kept with the team to serve as a "mentor/coach."
Even more interesting is that, despite having expanded rosters, Hernandez isn't going to pitch out of the bullpen at all. He will, however, be available as a pinch hitter (
Ladson Twitter
).
This is weird and actually kind of cool. The best part is that Hernandez reportedly has no issue with his change in role. In fact, he said he understands the Nationals need to get a look at the young players in looking ahead to 2012 (
Ladson Twitter
).
Will this be the end? You could make an argument that Hernandez will hang up the cleats at the conclusion of this season, but I feel like he'll stick around. He's 36 and can still eat innings with the best of 'em. This season, he's 8-12 with a 4.29 ERA and 1.39 WHIP in 170 innings. Those aren't good numbers, but they aren't awful either. He can fill a No. 5 starter spot for someone if he wants to keep pitching and it seems like he does. He did reportedly say he'd only be a long reliever for the Nats next season (
Ladson Twitter
) -- as in, he would be willing to be a long reliever if it meant he could stay with the Nats. He just wouldn't want to be a long reliever with anyone else.
In looking at Washington's projected rotation for next season, there are three definites, barring injury: Strasburg,
Jordan Zimmermann
and
John Lannan
. One would expect 25-year-old
Ross Detwiler
to nail down the fourth spot in the spring rather easily, too. So Hernandez could fill the fifth spot -- if the Nats don't elect to retain
Chien-Ming Wang
or sign a free agent from outside the organization -- until prospects like Brad Peacock or Tom Milone are deemed ready. If one of the two is ready immediately out of spring training, there's no starting spot for Hernandez. Basically, Hernandez would only be a temp.
The only active pitcher with more innings is
Tim Wakefield
, as Hernandez has accrued 3,116 1/3 in his career. Hernandez is the active leader in career games started and only
Roy Halladay
has more complete games among active pitchers.
So, yeah, Hernandez has experience and he's been getting hitters out with lackluster stuff for the past several years. He'll be a fine mentor for the young Nationals' pitching staff the rest of this season. As for the pinch-hitting, he's 10-for-44 with a double and seven RBI this season, so they could do worse.
For more baseball news, rumors and analysis, follow @EyeOnBaseball on Twitter or subscribe to the RSS feed.