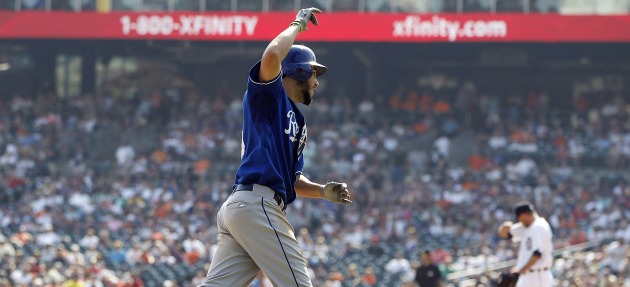 By Evan Brunell

Promising turnaround
: The
Royals
figure to lose at least 90 games, but the chatter in baseball remains overwhelmingly positive for Kansas City, who is drawing comparisons to Milwaukee.
Boasting the best farm team in the bigs, K.C. has already begun integrating its young players into the team, especially on offense where the Royals have a brand-new infield. Shortstop
Alcides Escobar
kicked off the year with the Royals after coming over from Milwaukee in the
Zack Greinke
trade, while
Eric Hosmer
received the first minor-league promotion at first base.
Mike Moustakas
followed soon to play the hot corner, while
Johnny Giavotella
just came up to man second.
Greinke, a former Royal, faced Hosmer in a rehab start in April and remarked that it was like facing a 10-year veteran.
"You probably know this," Greinke told Sam Mellinger of the Kansas City Star. "But Eric Hosmer is really good. I mean, really good."
Greinke is now with the Brewers, a team Mellinger says could be how the Royals look like in a few years if and when their young pitching prospects start bearing fruit.
The offense seems to have it all -- two defensive linchpins in Escobar and catcher
Salvador Perez
, home-run threats in Hosmer and Moustakas, and a capable bat in Giavotella. And we haven't even talked about the resurgent
Alex Gordon
in left field, or the fine season that
Melky Cabrera
has turned in. Yep, baseball in K.C. is looking sharp.
Going yard
: The 1,000th career hit for Jeff Francouer was a home run. "He told us he was going to get it in his first at-bat and he did, he didn't mess around with it," manager Ned Yost
told MLB.com
.
Baby giraffe
:
Brandon Belt
has gained a nickname -- that of "Baby Giraffe." Well, he met the real thing when Six Flags Discovery Kingdom named its newborn giraffe after Belt, of which you can see pictures on Belt's blog. (
A Veteran and a Rook
)
MVP pitcher?
Cole Hamels
disagrees with
my assessment that a pitcher should be eligible for -- and potentially win -- the MVP
, calling the Cy Young Award the pitcher's version.
"We only play once every five days and I don't know how much we can affect a team by winning all 33 or 34 starts because you still have to win 90 something games to make the postseason," Hamels told the
Dan Patrick Show,
via SportsRadioInterviews.com
. You need an everyday player to really go out there and play 140 to 150 games to really be a sorta MVP candidate."
My comeback? Don't look at games played. Look at at-bats. A hitter will generally receive roughly 600 plate appearances a year, while a pitcher will face a few hundred more hitters over the course of a season. Position players may play in significantly more games, but pitchers impact the games they pitch in far more than a hitter. It all balances out.
Bryce running
: Bryce Harper, on the disabled list for Double-A, ran for the first time since straining his hamstringo on Thursday. The team is hopeful he can participate in the minor-league postseason. (
Washington Post
)
Baseball in the Netherlands
: The Dutch look to be in prime position to host a baseball game in 2014, with the Netherlands preparing to submit a bid for a game to be played in Hoofddorp, a small city outside of Amsterdam. You don't hear much about baseball and the Netherlands, but interestingly enough, it's considered "the baseball powerhouse of Europe," Alex Remington writes. (
Fangraphs
)
Walk angry
:
Adrian Gonzalez
struck out on a called strike to end the
Yankees
-Red Sox game on Thursday, with New York coming away with a victory after
Mariano Rivera
loaded the bases in the ninth inning. "That pitch was down, I should still be hitting. That's all I have to say," he told
the Boston Globe
. Maybe, but Gonzalez shouldn't have swung at two painfully obvious balls. For someone with his plate discipline, he sure looked antsy up at the plate.
Banged-up Sox
:
J.D. Drew
's return to Boston figures to be delayed at least a week, but
Kevin Youkilis
could return as early as Friday. Another injured Sox player,
Clay Buchholz
, made 35 throws from 60 feet and reported no progress with his back. Buchholz's return may not happen until the playoffs, but if he can come back, it's a major shot in the arm. (
Boston Globe
)
Hobbled Yanks
:
Mark Teixeira
had to leave Thursday's game with a bruised right knee after being hit by a pitch, and he looks as if he will miss a few games, the
New York Post
writes.
Alex Rodriguez
, meanwhile, is hopeful he can rejoin the starting lineup on Friday but admitted he just isn't sure
to the Post
.
Big step
:
Adam Wainwright
will throw his first bullpen session shortly after undergoing Tommy John surgery. The season is lost for the Cards right-hander, but he can get himself ready to go for the 2012 season. It's possible that if a St. Louis minor-league affiliate goes deep into the playoffs that he could make a rehab start before baseball shuts down. (
MLB.com
)
Under the knife
:
Twins
top prospect Kyle Gibson will wrap up a disappointing year by undergoing Tommy John surgery. Gibson was expected to win a rotation spot at some point during the year, but now Minnesota will have to cast its eye to 2013 for any significant production out of the first-rounder. (
Minnesota Star Tribune
)
Backpacking
: A new trend is emerging in baseball as part of an old one. The junior member of a bullpen has always been expected to haul a bag full of snacks, drinks and pain medications to the bullpen. Lately, however, the bag has morphed into gear designed to embarrass the player -- a Hello Kitty backpack -- for example. The
New York Times
looks at the increasing trend.
For more baseball news, rumors and analysis, follow @EyeonBaseball on Twitter or subscribe to the RSS feed.