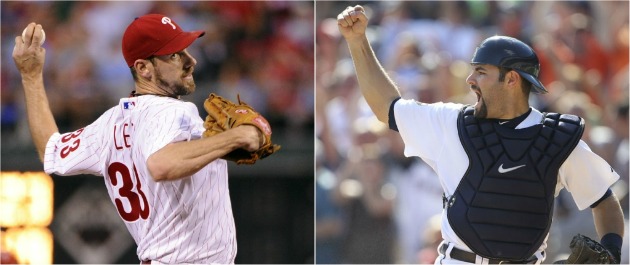 By C. Trent Rosecrans
Every year August is the month when some teams pull away in the playoff race and others fade -- it's one of the biggest months of the season, even if it doesn't have the drama of September or the stakes of October. By the time August is done, there are few surprises -- what you see is what you get.
August's Best
Expert
Batter
Pitcher
Knobler
Ortiz
Lee
Miller
Granderson
Lee
Brunell
Avila
Kershaw
Rosecrans
Votto
Lee
Snyder
Avila
Lee
Fantasy
Avila
Lee
While one surprise team (Pittsburgh) fizzled, another (Arizona) sizzled. The Diamondbacks started August two games back in the NL West and now lead the defending champion Giants by six games. The D-Backs finished August on a nine-game winning streak -- they also had a seven-game winning streak earlier in the month. Kirk Gibson's club did have a six-game losing streak in the past 31 days, but the Giants have struggled all month, allowing some breathing distance for the D-Backs.
This August has seen Atlanta's Dan Uggla go from a disappointment to, well, Dan Uggla. His hitting streak ended at 33 games, but his average increased from .206 at the end of July to .232 at the end of August. In all, he hit in 22 of 26 August games and went .340/.405/.670 with 10 homers as the Braves solidified their hold on the NL wild-card spot.
Uggla was one of three players with 10 homers in the month, along with the Yankees' Curtis Granderson and the Rays' Evan Lognoria.
But it's Detroit's Alex Avila who gains the nod as our Batter of the Month.

His value to the Tigers lineup sealed the deal. Avila hit .360 with seven homers, 19 runs, 18 RBI and a 1.169 OPS in the August. Getting that kind of production from anywhere is incredible, but from a catcher it's just gravy. Even better, Avila bounced back from an awful July in which he hit .197 with a .584 OPS. Some may have thought his breakthrough season was coming to an end, but August was his biggest month of the season.
Meanwhile nine different pitchers picked up five wins. Some of the names (Cliff Lee, Clayton Kershaw, Zack Greinke, Justin Verlander) aren't surprising, while some (Ivan Nova, Ian Kennedy, Ricky Romero) were young guns making their mark. Another was a pitcher (Hiroki Kuroda) finally getting run support and the last (Bruce Chen) was a total surprise.
But Lee was The Man. He started five games. He won five games. He only allowed two earned runs, which both came in the same game. He averaged nearly eight innings per start, saving the Phillies bullpen some extra work. He struck out nearly a batter per inning while allowing less than one baserunner per inning, meaning he kept the pressure off his defense. Basically, Lee did it all for the Phillies in August, and that's why he snags this Pitcher award for a second consecutive month.
Past players of the month: April | May | June | July
Batter of the Month
Danny Knobler
Scott Miller
David Ortiz, Red Sox
Picking a player of the month wasn't easy, but David Ortiz's big two-run home run on Aug. 31 against the Yankees clinched it. Not exactly, but it helped. Even before that, Ortiz had a 1.308 August OPS that was the best by any major-league regular. In a month where no one player really stood out, he was definitely in the mix. And then he homered against the Yankees. So it's him.
Curtis Granderson, Yankees
Granderson's August catapulted him squarely into the AL MVP running. I love the symmetry, too: 29 RBI in August, and 29 runs scored. The runs led the majors and ribbies ranked second. Texas' Mike Napoli had a higher OPS (1.094-1.016) and deserves consideration, but if I picked one player to start a team with right now, it's Curtis G.
Evan Brunell
C. Trent Rosecrans
Alex Avila, Tigers
Avila has really come into his own in 2011. In August, he hit .372/.481/.721 with seven homers in 25 games. Did I mention he's a catcher? Avila's grip on the starting spot is so strong, he caught 18 consecutive games at one point during August. "He's been absolutely unbelievable," manager Jim Leyland told MLive.com. "He's been tremendous. There's no question about it. Pretty impressive. Pretty darn impressive." Indeed.
Joey Votto, Reds
Votto's August was much like Votto himself -- quiet and excellent. The Reds first baseman hit .347/.483/.716 with nine homers and 19 RBI in August. The Reds aren't in the postseason race, so it's unlikely Votto will get much consideration for MVP, but he may have had a better season than he did a year ago when he won the award.
Matt Snyder
Fantasy -- Al Melchior
Alex Avila, Tigers
Have you seen his average and slugging percentage in the month? That's just sick, especially for a catcher tasked with scouting opposing hitters and working with his pitching staff day in and day out. The young backstop just keeps getting better for the Tigers, who meanwhile keep winning games and appear headed for the postseason.
Alex Avila, Tigers
Avila wasn't the most productive hitter in Fantasy formats, but he was probably the most productive relative to his position. He lapped the field of catchers, hitting .360 with seven homers and 18 RBI. He also helped owners in formats that reward walks by drawing 19 free passes in his 109 plate appearances. While he didn't have the overall production of Granderson or Carlos Gonzalez, Avila helped his Fantasy owners immensely by providing elite-level production at a thin position.
Pitcher of the Month
Knobler
Miller
Cliff Lee, Phillies
In June, Cliff Lee went 5-0 and allowed just one run. In August, he went 5-0 and allowed two. That means he was slightly better in June than in August. It also means he's had two incredible months, and that he's my pitcher of the month -- again.
Cliff Lee, Phillies
This is why Philadelphia re-signed this guy. No, not to pitch in August. But to pitch in October LIKE he's pitched in August. Yeah, the 5-0 record in five starts grabs your attention, but that's just the beginning of the dominance. The 0.45 ERA over 39 2/3 innings, the 39 strikeouts against just eight walks, the 0.78 WHIP ... until Wednesday night, the Dodgers' Clayton Kershaw was my guy, but Lee's WHIP and strikeouts/walks ratio even tops Kershaw's (0.95, 39/10).
Brunell
Rosecrans
Clayton Kershaw, Dodgers
Kershaw has been bandied about as one of the next great pitchers, but he's great right now, with a 5-1 August catapulting him into the Cy Young Award chase. Don't look now, but Kershaw has a better record (17-5 to 16-5) than Halladay, thrown more innings (198 2/3; 196 2/3) and has a lower ERA, with a 2.45 mark compared to 2.47 on the year. That's thanks to a month in which the lefty hurled 46 1/3 innings, checking in with a 1.55 ERA.
Cliff Lee, Phillies
Only three times in baseball history has a pitcher had two months in one season with five wins, no losses and an ERA under 1.00 -- Walter Johnson in 1913, Bob Gibson in 1968 and Lee in 2011. Lee threw 551 pitches in the month and just one resulted in runs -- a two-run homer by Arizona's Paul Goldschmidt on Aug. 17 in 9-2 Philadelphia victory.


Snyder
Fantasy -- Scott White
Cliff Lee, Phillies
August was the second month this season where Lee's just been lights-out. This time around, he went 5-0 with a 0.45 ERA, 0.78 WHIP and 39 strikeouts in his five starts. His worst outing in the month came when Lee gave up three hits and two earned runs in a win against the first-place D-Backs.
Cliff Lee, Phillies
Lee made five starts in August and allowed zero runs in four of them, accomplishing the feat for the second time in three months. He won each of those five starts, averaging eight innings. He'll have his bouts with inconsistency, as was the case during an uneven July, but when he's on, he's arguably the best pitcher in Fantasy Baseball. He showed it again in August.
Danny Knobler and Scott Miller are Senior MLB Writers; Evan Brunell, C. Trent Rosecrans and Matt Snyder are Eye on Baseball Bloggers; Al Melchior is a Fantasy Data Analyst; and Scott White is a Fantasy Writer.
For more baseball news, rumors and analysis, follow @cbssportsmlb on Twitter or subscribe to the RSS feed.