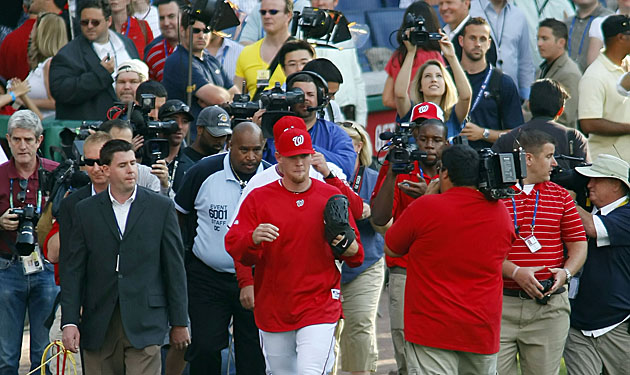 By Matt Snyder
The picture above was taken June 8, 2010.
Stephen Strasburg
had emerged from the Washington
Nationals
dugout for the first time, ready to carry the future of a floundering franchise with his mighty right arm. A sellout crowd was on hand, buzzing with anticipation of this possible savior. They did not go home disappointed. Strasburg looked every bit the part of an elite ace. He struck out 14 hitters in his seven innings, leading the Nationals to victory. The rest of the season, every time Strasburg pitched, the buzz and hype came back to the ballpark. He did his part -- ending up 5-3 with a 2.91 ERA, 1.07 WHIP and 92 strikeouts in 68 innings. The Nats went 8-4 in Strasburg's 12 starts. They went 61-89 in games he didn't start.
Washington had its savior.
And then he went down.
Strasburg was diagnosed in late August of 2010 with a torn ulnar collateral ligament in his right elbow. In layman's terms, Strasburg had to undergo season-ending Tommy John surgery -- a procedure that requires around a year of rehab.
Losing Strasburg didn't take the Nationals out of any pennant race, but it was a huge blow to the ballclub for several reasons.
First of all, losing Strasburg killed the Nationals financially. They are averaging 24,049 fans per game this season, which is 57.9 percent of the stadium's capacity. Last year, Strasburg's first two starts were sellouts, with tickets on the secondary market going for triple figures. The game after Strasburg's debut drew less than 19,000. His debut alone brought in $1.5 million in revenue for the Nats, who were estimated to lose out on about $10 million of revenue with him injured for a year. Also, ratings on local TV for the debut night set records (all figures from the excellent
Biz of Baseball
). People were actually calling his starts "Strasmas," spinning one in every five days as a holiday. Obviously, every night isn't going to be the same as the debut, but the point remains that Strasburg -- just as Bryce Harper will be -- is a gargantuan draw for Washington. For now, he's the Nationals' rock star.
Next, morale took a hit upon news of the injury. The Nats were 81-81 in their first season, but haven't won more than 73 games since. They have finished in last place five of their six seasons, and the one time they didn't it was a fourth-place finish. Getting a pitcher the caliber of Strasburg was symbolic.
We don't have to be a doormat any longer.
But when he went down, it had to be a huge blow to the mindset of the suffering fan base and even the team itself. Now, with his return, Nationals players, brass and fans can start thinking about a future that includes Strasburg,
Jordan Zimmermann
,
Ryan Zimmerman
, Bryce Harper, Anthony Rendon,
Danny Espinosa
,
Michael Morse
,
Tyler Clippard
,
Henry Rodriguez
and a host of others. Hope of contending is actually on the horizon, and as our friend Andy Dufresne taught us, hope is a good thing.
Now, the question becomes whether or not Strasburg will ever be able to stay healthy for long periods of time. He throws so hard and puts an awful lot of torque on his shoulder and elbow. If he can return to form, he gives the Nats a legitimate ace to anchor the promising future of the franchise. Tommy John surgery isn't necessarily a harbinger of things to come. The following pitchers came back just fine -- many better -- from the procedure:
John Axford
,
Chris Carpenter
, John Smoltz, Billy Wagner,
Brian Wilson
,
C.J. Wilson
,
Shaun Marcum
and, of course, Tommy John himself. But what if Strasburg's motion lends itself to breaking him down?
We'll start finding out soon. After
making one more rehab start Thursday night
, Strasburg
will make his first start for the Nationals in 2011 September 6
. He was
lights-out last time on the mound in Triple-A
, so he should be ready to step right back on the hill and pick up where he left off last August. How Strasburg fares in the final month will easily be one of the biggest storylines in all of baseball, because he's a game changer.
For more baseball news, rumors and analysis, follow @EyeOnBaseball on Twitter or subscribe to the RSS feed.