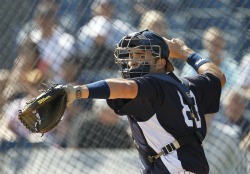 By C. Trent Rosecrans
Not that it's much of a surprise, but Jesus Montero will be in pinstripes on Thursday, Joel Sherman of the New York Post reports.
The Yankees' top hitting prospect will be promoted when rosters expand, while top pitching prospers Manuel Banuelos and Dellin Betances will not be called up, Sherman writes.
According to the report, the Yankees feel Banuelos and Betances have thrown enough innings and pitched well enough to let them rest.
Montero, however, will be used -- and could very well impact the race for the American League East title, as Evan Brunnel wrote on Tuesday. Montero is nominally a catcher, but he's not coming up to catch, he's coming up to hit. The right-handed hitting Montero will be used as a DH. At Triple-A Scranton/Wilkes-Barre, Montero is hitting .288/.348/.467 with 18 home runs and 67 RBI, but was scorching in August, hitting .308/.370/.604 with eight home runs.
Banuelos, a 5-foot-11 lefty, went 6-7 with a 3.45 ERA in 26 minor-league starts this season, throwing a total of 128 innings. He made six starts at Triple-A, going 2-2 with a 3.03 ERA, striking out 30 in 32 2/3 innings. Overall, he had 124 strikeouts and 66 walks.
Betances, a 6-foot-8 right-hander, was 4-8 with a 3.49 ERA in 24 minor-league starts. He made three starts at Triple-A, going 0-2 with a 3.94 ERA. Overall he pitched 121 1/3 innings, striking out 135 and walking 68.
For more baseball news, rumors and analysis, follow @eyeonbaseball on Twitter or subscribe to the RSS feed.