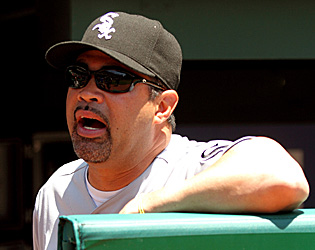 By Evan Brunell

Earlier Tuesday, it
was reported
that manager Ozzie Guillen and
White Sox
GM Kenny Williams' relationship is "beyond repair."
Guillen had some strong statements, saying that while the decision lies with both owner Jerry Reinsdorf and Williams as to whether Guillen manages in 2012, he is the face of the franchise and can leave Chicago "with my head up" because "I'm the one with the balls around here."
Guillen has kept on motoring with comments that continue to dig him a deeper and deeper hole, telling
Chuck Garfien of CSNChicago.com
that "I don't think I'll be back here for one-year contract, and not know about the next year."
Guillen is under contract for the 2012 season after the team picked up his option in the offseason, as a way of silencing the discussion around the fued that has lasted for a couple years, but Guillen is now stoking the fire once more. Except here, Guillen is going about it all wrong, first by saying he's the face of the franchise, second by saying he's the only one with any gumption in town, and now by saying he will not manage without a contract extension.
Guillen may hold himself in high esteem, but he signed the contract that afforded Chicago a 2012 option, which is now guaranteed. Guillen is obligated to manage the team if Chicago asks him to. The fact that he believes he can walk away and not honor his contract if he doesn't get an extension is patently ridiculous. Even Guillen has to know how favorably
Jim Riggleman walking away in Washington
was received by those in the game. (Read: not well at all.)
It's likely that Guillen knows this, and he's only posturing to either get the extension or be fired, perhaps to take over the
Marlins
. (If he thinks it's tough working for Williams under Reinsdorf, wait until he sees
what Jeffrey Loria has in store for him
.) But that doesn't excuse his words. It's a tired threat by now, one people have made before. Guillen rants are always fun, but this particular storyline is getting old. Fortunately, it looks as if the situation will be resolved one way or another this winter.
For more baseball news, rumors and analysis, follow @EyeonBaseball on Twitter or subscribe to the RSS feed.