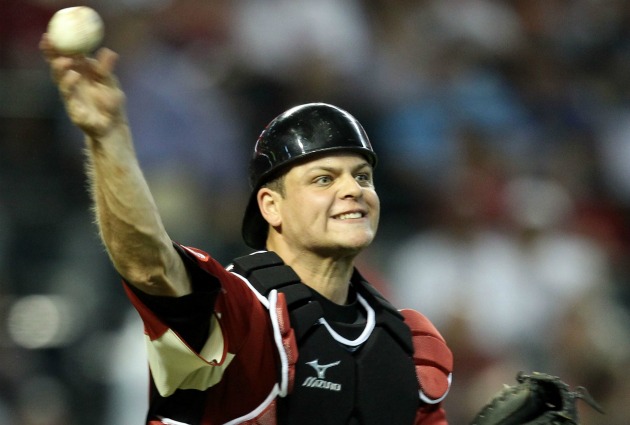 By Evan Brunell

With September around the corner, major-league rosters will be expanded to 40 men, allowing teams to call up players for any reason. Whether that be taking a look at a player that could be a big part of the team's future or supplementing playoff contenders, the transition to 40 men will change games in September. Here's a look at nine players who could have significant roles moving forward that could dictate a team's immediate and long-term future. For the purposes of this discussion, we're limiting the candidates to those with little-to-zero MLB experience, as well as those who have yet to make an impact in the majors. (In other words, no Stephen Strasburg, Pedro Alvarez or similar candidates.)
Jesus Montero and Manny Banuelos, Yankees
: The hubbub has been all about Jesus Montero for quite some time, and he should finally get the call to New York on Thursday. When he arrives, Montero should collect enough starts behind the dish and as DH for the Yankees to evaluate whether he can help them in October. While the Yankees have enjoyed a productive DH combination of
Andruw Jones
and
Jorge Posada
, Montero could easily outdistance the two if he delivers on his promise.
Banuelos, meanwhile, has a chance to be a sneaky threat. The Yankees lack a true viable left-handed reliever as
Boone Logan
's effectiveness in that role has been deceptive. Banuelos was expected to be
converted to relief in the hopes of helping in that role
down the stretch, but has remained in the rotation for Triple-A, making six starts and posting a 3.03 ERA, and GM Brian Cashman
said a couple weeks ago
that it was unlikely Banuelos would be called up.
I'm not sure we should buy into that, however. Banuelos has long been linked to an eventual call-up and can help the team. Plus, don't look now, but the
Rays
have made up some ground recently, and the wild card is not even close to being in hand, while a three-game set with division-leading Boston coming up Tuesday night will also have ripple effects. Given
A.J. Burnett
has imploded,
Phil Hughes
is a box of chocolates (you never know what you're gonna get) and
Bartolo Colon
has shown chinks in his armor lately, Banuelos could end up a surprise starter down the stretch and save New York's season.
Devin Mesoraco, Reds
(pictured): The Reds have an embarrassment of riches at catcher, with
Ramon Hernandez
and
Ryan Hanigan
equipping themselves well in the majors, while Devin Mesoraco and Yasmani Grandal continue rising up prospect charts down on the farm. Mesoraco could be the best of them all and will get a chance to prove that in September. Hitting .289/.372/.486 in 495 plate appearances for Triple-A, the 23-year-old figures to bump Hernandez off the team this winter. The Reds are clear sellers in a disappointing season after winning the division, and a strong debut by Mesoraco could get the team chomping at the bit for 2012.
Anthony Rizzo, Padres
: Rizzo fell on his face in an earlier promotion to the majors after ripping apart Triple-A. Hitting .143/.282/.265 in 117 plate appearances isn't how one wants to start his career, but Rizzo should get another shot in September, although he'll have to jostle for playing time due to
Kyle Blanks
and
Jesus Guzman
. The 21-year-old has nothing to prove in the minors, ripping 26 home runs in just 89 Triple-A at-bats and could be an important piece to the Padres' 2012 hopes, so he'll get plenty of chances to redeem himself. The guess here? He will.
September Storylines
Which minor-leaguers can make an impact?
To come:
A look at the postseason races
Jacob Turner, Tigers
: Turner already made a spot start for the Tigers, but Detroit could dip down again for the phenom that could top the rotation one day. The freshly-minted 20-year-old has a 3.44 ERA in 20 minor-league starts, all but three at Double-A. Overall, he's tossed 136 1/3 innings in 2011, which is a significant leap forward from 2010's 115 1/3 innings, so inning limitations could play in. However, if Detroit wants to make the postseason and go deep, they have to do something to support
Justin Verlander
in the rotation.
Max Scherzer
has been playing a bit of a Jekyll and Hyde act, and
Doug Fister
is a capable pitcher but no one's idea of a lockdown starter. If the Tigers take the gloves off, Turner could emerge to be an important piece.
Stephen Lombardozzi, Nationals
: The Nationals already have a middle-infield combination in
Ian Desmond
and
Danny Espinosa
, but the Nationals balked at including Lombardozzi in a potential trade for Minnesota's
Denard Span
for a reason. The second baseman will receive a look in September as a potential solution at second next year, which forces Desmond and Espinosa into a tough position of playing for their jobs. Lombardozzi is only 22 but has handled Triple-A with aplomb, slashing .320/.364/.426 after a promotion from Double-A. If he plays well down the stretch, one of Desmond or Espinosa will likely be playing in another uniform come 2012 and could be the prime bait needed to grab the long-term center fielder the team so covets. A strong September by Lombardozzi could have ramifications for years in Washington.
Wilin Rosario, Rockies
:
Chris Iannetta
hasn't given the Rockies any indication he can be a long-term, viable starter, but it's OK because Rosario can be that man. While Rosario hasn't exactly lit the world on fire in his repeat of Double-A with a .254/.285/.468 line over 410 PA a year after hitting .285/.342/.552 in 297 PA, he will be receiving a call-up and will play extensively down the stretch. Rosario is well-regarded by both the organization and prospect mavens, so he's a player to watch.
Domonic Brown, Phillies
: Brown already tried and failed to hold down a starting job earlier this year, and his role will be greatly reduced in September thanks to the recent play of
Raul Ibanez
and
John Mayberry
, but don't overlook Brown. Any day, Ibanez or Mayberry could stop hitting and Brown would be looked at to step in and keep the offense going. Even if not, the Phillies have been linked to
Jim Thome
and
Jason Giambi
in recent days as ways to shore up the bench. Brown is a left-hander... even if he's not oozing with power or established. Still, he could be that pinch-hit threat off the bench Philadelphia is looking for in October. He hasn't exactly inspired confidence in Triple-A, but the light could go on any day and when it does, he will be a force to be reckoned with.
Brett Jackson, Cubs
: As the Cubs look to move past the futility that has dogged them in recent years, Brett Jackson could be a breath of fresh air. While his call-up isn't guaranteed, he's ripped apart Triple-A despite striking out in 30.6 percent of his at-bats. That can be forgiven with a .319/.395/.583 line in 186 plate appearances, which could force the Cubs' hand. Long considered the Cubs' center fielder of the future, that could turn into the present as Chicago begins evaluating its prospects for 2012. With
Kosuke Fukudome
out the door,
Tyler Colvin
struggling and
Marlon Byrd
not part of the future, Jackon could be in line for significant playing time. If he produces, that's one less spot Chicago has to worry about filling, and will give the team someone young on offense other than
Starlin Castro
to build around.
For more baseball news, rumors and analysis, follow @EyeonBaseball on Twitter or subscribe to the RSS feed.