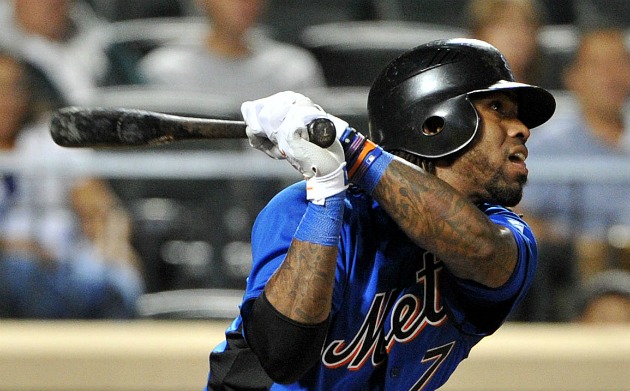 By C. Trent Rosecrans
It only takes one to like you to hit the jackpot -- I'm the living proof. My wife, she's great. Me? Eh. I'm probably not even a replacement player -- I'm guessing my Win Against Replacement husband is roughly somewhere around negative-1.2. I'm certainly no Jose Reyes, I can tell you that.
Reyes has a lot of things I don't -- youth, speed, a great arm and he can hit. He also has really cool hair. Me? I'm left-handed, so there's that. Beyond that? I type pretty quickly and I'm not too shabby at a grill (and I smoke a mean pork butt).
So what does this have to do with anything? Reyes will enter the offseason as the biggest free agent on the market and beauty is in the eye of the beholder.
Last night Reyes came off the disabled list between games of a doubleheader after missing three weeks with a strained left hamstring, singling in the seventh inning as well as making a nice play in the field (along with an error earlier in the game). There will be plenty of eyes on Reyes down the stretch, despite his Mets being well out of the pennant race, but not for what exactly he does on the field, just that he stays on it. What those watching will see with Reyes in the last month of the season? It's kind of a glass half-empty or half-full thing...
September Storylines
To come:
Can Jose Reyes stay healthy?
Which minor-leaguers can make an impact?
A look at the postseason races
Some general managers could see a guy who put up MVP numbers for the Mets this season. He's in line to win the batting title, has a .376 on-base percentage and is slugging .505. Put that a premium position and you're talking a pricey player for any team wanting to make an offseason splash -- and this would be as big of a splash as me doing a cannonball off the high dive. Reyes is the best shortstop in baseball not named Troy Tulowitzki -- and Tulowitzki isn't going anywhere soon. Reyes also just turned 28 in June, so he'll likely still be younger than New York's other starting shortstop when this contract is over (assuming it's not a crazy 10-year deal or anything).
Others could see him as injury-prone and a gamble. Despite great talent, they can look back on Carl Crawford and his injury-plagued first season in Boston as a cautionary tale. Even his own owner, Fred Wilpon said earlier this year that he didn't think Reyes would get a "Carl Crawford contract" -- which for the record was seven years and $142 million -- and that was before his two stints on the disabled list this season. And given that the Mets are one of the prime suspects for handing out that kind of contract, it certainly raises some eyebrows. When Reyes went on the disabled list earlier this month, an anonymous teammate told a reporter that his injury might cost him $100,000 for every day he's on the disabled list. So, that could cost him $2,150,000 -- that's more money than I can imagine, but just small percentage of what Reyes could earn on the open market.
And that's just the point -- no matter what Reyes does over the final month of the season, he's going to get paid. He's going to be paid handsomely -- and he may just get a "Carl Crawford contract" -- because in the end, it only takes one team to fall in love and overpay. Just like my wife… and Jayson Werth with the Nationals.
For more baseball news, rumors and analysis, follow @eyeonbaseball on Twitter or subscribe to the RSS feed.