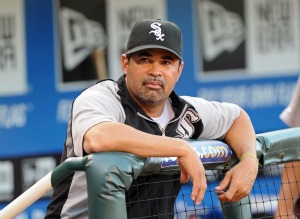 By C. Trent Rosecrans
Ozzie Guillen sure sounds like someone who wouldn't be surprised to be wearing a different uniform next season.
Joe Cowley of the Chicago Sun-Times cites a "major-league source" that the relationship between Guillen and general manager Kenny Williams is "beyond repair."
Just as damning seems to be Guillen's comments to Cowley. Not that Guillen is a stranger to strong statements, but these seem to have an edge.
• "Like I keep saying, whatever they do, that's up to them. I have a contract, so my hands are tied. I want to stay here, but only if they want to keep me here. This is a business, so if they want to talk to other teams or talk to others about managing… I know it's not what I want."
• "To be honest, it's pretty good money for him to just let me go. If they don't think I'm doing my job and all this [stuff], they thing Ozzie [messed] this up, fine, let them think that."
• "Let's get this straight: I'm the face of the franchise. People can say what they want. There's a lot of blame going around out there, but I blame myself because I guess I'm the one with the balls around here. It's not because I'm cocky or an arrogant guy, but I can leave Chicago with my head up. That's what's important to me.
"Jerry [Reinsdorf] is the one that has to decide on if [Kenny and I] can make it work. We're doing it, getting by. We're not best friends, but we make do. We're professional. We do what's best for the ball club. Our job is more important than our friendship."
The entire column is worth reading. Cowley comes to the conclusion that one or both Guillen and Williams will be gone after the season, which may not be a stretch.
For more baseball news, rumors and analysis, follow @eyeonbaseball on Twitter or subscribe to the RSS feed.