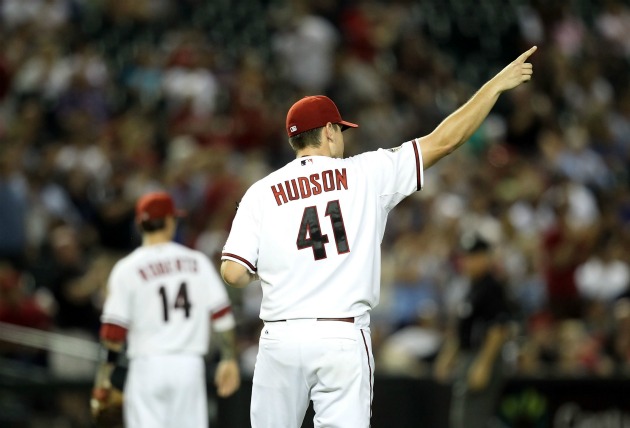 By C. Trent Rosecrans
The Giants' last stand may come this weekend -- if they're even still in it by the time the Diamondbacks visit AT&T Park.
You may have noticed the Diamondbacks are starting to pull away in the National League West, winning their last seven games and increasing their lead in the division to five games. I'm still not sure exactly how it's happened, but you've got to appreciate what Kirk Gibson and his team have done.
Whichever team wins this division will do it by winning the division -- the Giants don't play anyone outside their division the entire month of September, while the Diamondbacks have three games against Pittsburgh in September, but no other games outside the division. What that means? A lot of the Padres and Dodgers and Rockies -- teams with a combined 29 games below .500.
One thing to keep in mind if you like trends, after the Diamondbacks won seven games earlier this month, they went out and lost their next six. If that trend repeats, it'd mean a sweep in San Francisco, which would put the Giants right back into it. But if San Francisco can't score more than a run or two in a game, they won't be sweeping anyone.
Real hero: You hear the word "hero" with sports way too much -- but it's an appropriate use of the word for Emmanuel Marlow. Who is Marlow? He's a vendor at Nationals Park who saved a choking fan on Thursday. Marlow, 49, used the Heimlich maneuver to save the young fan -- then went back to doing his job. Or his second job. Marlow also cares for patients with Parkinson's in his first job. Really, a great story and a real hero. [Washington Post]
Fan scare: Speaking of fan safety, a young fan was hit in the face by a foul ball at Citi Field on Monday. The Marlins' Greg Dobbs hit the ball and said he was told the boy did not suffer broken bones or had his sight damaged, so that's good news. Dobbs gave the kid's mother a bat and Mets second baseman Justin Turner gave him his jersey -- but that's a pretty high price to pay for a jersey and bat. Luckily the boy is OK. [MLB.com]
Perez impresses: The Royals have had their fair share of hyped prospects, so it's OK if you weren't too aware of catcher Salvador Perez. You may want to get used to hearing his name. Since being called up from Triple-A Omaha, he's started 16 of 18 games for Kansas City -- and he's hitting .295/.333/.443, including a 3-for-4 performance and his first home run in Monday's victory over the Tigers. Royals manager Ned Yost said he's "hard to take out of the lineup," and expects him to play 140 games a year. Perez hadn't played above Class A until this season and has had an incredible year, ending in the big leagues. [Kansas City Star]
The new Josh Beckett: Marriage has changed Red Sox starter Josh Beckett, he said. No longer is baseball his top priority -- but he's been even better with it as No. 2 in his life. [WEEI.com]
Standing pat: Phillies general manager Ruben Amaro Jr. said he "doubts" the team will make a deal before the Aug. 31 trade deadline. Phillies place on the waiver line (last in the National League) and payroll limitations make any move unlikely. [Philadelphia Daily News]
Untested: Monday night was supposed to be an experiment for the Reds' Yonder Alonso. The Reds rookie received his first professional start at third base on Monday night but didn't have a single ball hit his way. While it was surprising, it was part of the plan. Dusty Baker said the team made Alonso's first start at third during a Homer Bailey start on purpose, as "guys don't usually pull Homer." They didn't, so consider the results of the experiment inconclusive. And don't expect a repeat of Alonso at the hot corner on Tuesday with Bronson Arroyo on the mound against the Phillies. [Dayton Daily News]
Carp may stay: Even if the Cardinals don't pick up Chris Carpenter's $15 million option, MLB.com's Matt Leach doesn't see the team letting the right-hander leave via free agency.
Feeling blue: The Mets will wear retro uniforms for their 50th anniversary next season and then add a blue jersey in 2013. [ESPNNewYork.com]
Garfoose is loose: The Rays released minor league right-hander Dirk Hayhurst, which wouldn't mean much if he weren't the author of the very entertaining Bullpen Diaries and a prolific blogger and Twitter user. Best of luck to Hayhurst -- because if he's out of baseball, he may be out of stories, and that would be a shame. [DirkHayhurst.com]
Stats are fun: Yahoo's Jeff Passan has 25 great, nerdy stats in his latest column. If any pitchers are reading this, for all that is holy, don't throw Joey Votto a fastball.
Feliciano done? Left-handed reliever Pedro Feliciano may need career-ending shoulder surgery to repair his a tear in his shoulder. It will certainly end Feliciano's season, but could cost him more. He signed a two-year, $8 million contract before the season and hasn't thrown a pitch for the Yankees. He could get $8 million for just signing his name if he can't come back from this injury. [ESPNNewYork.com]
Socks appeal: There's a proper way to wear a baseball uniform and too often you don't see it -- instead you get the pajama pants look. Hunter Pence's high socks are gaining some attention in Philadelphia. [Philadelphia Inquirer]
For more baseball news, rumors and analysis, follow @eyeonbaseball on Twitter or subscribe to the RSS feed.