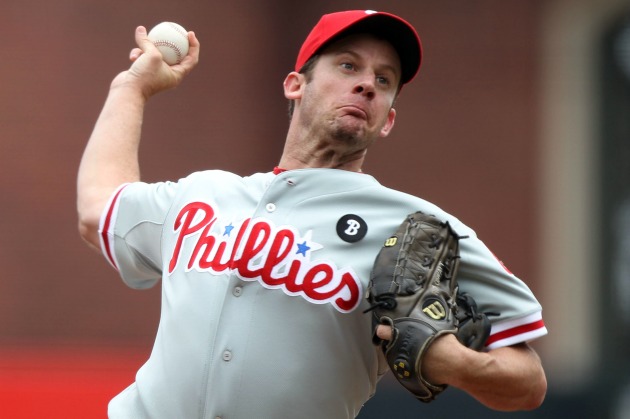 By Evan Brunell
Note: Through Thursday, the Eye on Baseball team will be churning out two September Storylines per day.
The 2011 season could mark the end of the line for many players in the game -- some of whom will walk away of their own choosing and some who will be forced out. There will be legends and scrubs alike hanging up the cleats. Here's a look at the top nine players that could be bidding farewell to their playing career after the season.
A generation of shortstops
: We're gonna start this list out by cheating immediately and count eight players -- yes, eight -- as one on the list. This season could be the end for a cadre of shortstops who, over the last two decades, have been responsible for significant playing time at the position.
Orlando Cabrera
,
Craig Counsell
,
Rafael Furcal
,
Alex Gonzalez
,
Julio Lugo
,
Edgar Renteria
,
Miguel Tejada
and
Omar Vizquel
could all choose to hang up their cleats. While none of these players appear to be viable starters in 2011, it's still a significant chunk of history to lose. Between these players, 61,355 plate appearances headed into Monday's games have been earned by these shortstops. Between these players alone, they are responsible for just over 102 full seasons of playing time, assuming 600 plate appearances a year.
It's unlikely that all these players will retire, especially since someone will have to occupy a starting or bench spot. Losing eight shortstops currently holding starting or backup positions would create a major depth void, and teams simply don't have enough resources to fill the gap. Several Dominican Republic newspapers believe Tejada will retire, while Counsell's retirement is a virtual lock.
Here's the breakdown of plate appearances per player through Sunday's games and their debut season:
Orlando Cabrera: 8,213 PA, 1997
Craig Counsell: 5,450, 1995
Rafael Furcal: 6,557, 2000
Alex Gonzalez: 5,935, 1998
Julio Lugo: 5,338, 2000
Edgar Renteria: 8,990, 1996
Miguel Tejada: 9,035, 1997
Omar Vizquel: 11,837, 1989
Roy Oswalt
(pictured): Oswalt has made reference enough times to retiring after the season that one has to take the threat seriously. Oswalt rejuvenated his career last season and has been a capable pitcher for Philadelphia this year and is just 34 years old. If he wanted to, he could net another strong contract, but has struggled with back problems all year and has been held to just 17 starts on the season. If Oswalt decides he doesn't have anything left to play for, he'll just go back to his ranch and
bulldozer that was a gift
from
Astros
owner Drayton McLane.
If he does indeed retire, he'll do so as one of the best pitchers of the '00s, tying for fifth in the decade for wins with 137 and 10th in ERA with 3.23, a mark that jumps to fifth when you remove relievers from the equation.
September Storylines
Swan songs for several players
To come:
Can Jose Reyes stay healthy?
Which minor-leaguers can make an impact?
A look at the postseason races
Jorge Posada
: It's doubtful that the Yankee great will retire. Instead, he's likely going to move on to another team, but he could also end his career having played for just New York and as the best catcher in franchise history since Thurman Munson. In his first year as full-time DH after 14 seasons behind the plate, he's progressively earned less and less playing time the longer the year has gone on thanks to an anemic .244/.322/.407 line. At age 40, no team will live with Posada behind the plate and there are only so many DH jobs to go around. Posada will be in the same spot as several other players toggling between coming back for another year or retiring in jockeying for jobs. A down-and-out DH isn't exactly in demand, especially during a time where the DH is increasingly being used to give players in the field a break as opposed to sticking someone in DH the entire season and leaving him there.
Vladimir Guerrero
: Vlad the Impaler looked like he might be done after the 2009 season, but hammered 29 home runs for Texas last year (albeit mostly during a scorching-hot first half), which earned him another starting job this season. But in Baltimore, the wheels have completely fallen off, with the 36-year-old hitting just .277/.307/.390. Guerrero is a lost cause in the field, so is limited to DH these days. He's clearly not doing a good job of it and could elect to walk away as one of the greatest Expos in franchise history and 446 career home runs through Sunday. Guerrero didn't sign until mid-February, adamant on getting a full-time job and an $8 million salary. He won't come close to those guarantees again and may elect to pack it in. The demand for Guerrero, especially after the year he's had, figures to be tame.
J.D. Drew
: Drew isn't the only outfielder that many in the game would recognize that could retire, as
Magglio Ordonez
could also hang them up. But Drew's had a more prominent role, first becoming a lifelong villain in Philadelphia for spurning them in the draft, later signing with the
Cardinals
. Drew also has had a productive career, despite being injury-prone and has a World Series ring (2007, Boston) to show for it. The 35-year-old isn't the type of person to hang onto a baseball career as long as he can, and would absolutely walk away to be with family. Even though he's had a lousy year in which he lost his starting job to
Josh Reddick
, he wouldn't lack for job prospects if he decided to return. But given his reputation in the game as a passive player disliked by fans, with injuries constantly sidelining him and more money than he will ever need, Drew could walk away.
Tim Wakefield
: Tim Wakefield has had a long and storied career, but is reaching the end of the line. He's failed in six straight instances to grab career win No. 200. Some of these games, he's deserved to come out with a win, but the last two years have been a struggle for him -- especially the second half this season -- and the
Red Sox
may opt to cut the cord. If that happens, Wakefield will retire, even if he feels like he could return for another season or two. He's also just eight wins away from the all-time Red Sox wins record, a mark that looked sure to fall two years ago but he's collected just 10 wins these last two seasons while losing his role as a permanent starter. When Wakefield retires, he will take his knuckleballer with him, leaving the late-blooming
R.A. Dickey
as the only knuckler in the majors. Wakefield's retirement is dependent more on Boston's interest in bringing him back.
Javier Vazquez
: Vazquez was cryptic about his retirement plans to the
South Florida Sun-Sentinel
, telling the paper that he has known for some time whether this will be his final year or not, but is declining to reveal his answer until after the season.
"Something I've always wanted to do is when I retire to do it on my terms," Vazquez, who has three children, of which the oldest is 8, said. I've never wanted to retire because I couldn't pitch anymore. I want people to say, 'He retired, but he could have kept pitching,' not, 'It was already time for him to retire.'" Vazquez has turned his season around since an awful beginning, posting a 2.53 ERA over his last 75 1/3 innings. Given that, plus the lack of free agent starters, Vazquez may be able to net another sizable contract, but it appears as if he's ready to go home at the age of 35.
As the
Sun-Sentinel
reports, if Vazquez does retire, he will do so having amassed the the second-most strikeouts by a Latin pitcher, behind just Pedro Martinez. In addition, the righty will probably pass Christy Mathewson for 29th all-time.
Jim Thome
: Thome isn't the only slugging first baseman that could hang up his cleats --
Jason Giambi
may also call it a season. But there's no doubt that Thome has had the more storied career, recently knocking his 600th home run and heading back to Cleveland in a deal, rejoining the team he came up and had his glory years with. Thome is hitting .238/.347/.477 on the year with 13 home runs in 251 PA, so he could easily find work next year if he wanted to. But with No. 600 out of the way, a return to Cleveland in the books and a current age of 41, Thome could decide to hang it up, even if he would do so without a World Series ring.
For more baseball news, rumors and analysis, follow @EyeonBaseball on Twitter or subscribe to the RSS feed.