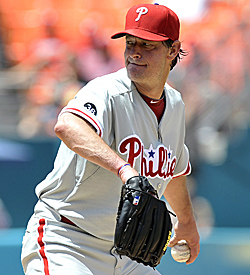 By Matt Snyder
Jamie Moyer
isn't done with baseball just yet. The 48-year-old left-hander is recovering from Tommy John surgery and has asked the
Phillies
if he can use their facilities to rehab from the surgery.
"We're providing him our space in Clearwater and our expertise," Ruben Amaro Jr. said (
The Zo Zone
).
Moyer will be a free agent if he is able to return for the 2012 season. He was 9-9 with a 4.84 ERA and 1.10 WHIP for the 2010 Phillies.
The real intrigue here is Moyer would be 49 years old when the season started. In many ways, if he finds himself in a rotation, he'd be the oldest player in ages that's an integral part of a Major League Baseball team. Julio Franco was rostered at 49, but he was 48 when the season started. Being 49 and on a roster to start the season would make Moyer the oldest player since Minnie Minoso played for the
White Sox
in 1980 as a 54 year old, but that was a novelty act. Same with Minoso's three-game return in 1976 as a 50 year old after a 12-season hiatus. After that, we go back to Hall of Famer Hoyt Wilhelm, who worked 25 1/3 innings for the
Dodgers
as a 49 year old. Still further, we work our way back to the great Satchel Paige -- also a Hall of Famer -- who threw three innings in 1965 at the ripe age of 58. Again, you could consider that a novelty act. So Moyer being an actual member of a rotation would be quite the feat.
Is Moyer's reluctance to retire a quest for 300 wins? If so, he'll be pitching when he's 50 -- assuming someone would have him. Moyer has 267 wins and he's obviously not winning 33 next year. He did win 16 in 2008 and 12 in 2009, so it's realistic that he believes he can get there with two more good seasons. I don't think he can, but hey, it's good if he has such lofty goals.
For more baseball news, rumors and analysis, follow @EyeOnBaseball on Twitter or subscribe to the RSS feed.