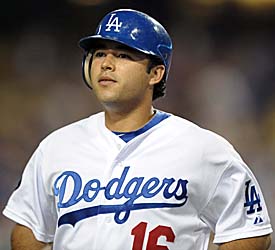 By Matt Snyder
Back in July,
Dodgers
right fielder
Andre Ethier
played in the All-Star Game after a big first half that was highlighted by a
30-game hitting streak
. He's slumped badly since the break, though, hitting just .224 with one home run in 37 games. And it's with good reason, because Ethier's playing injured.
Ethier's playing on a bad right knee, which will reportedly require offseason surgery. The Dodgers are 11 games out of first place in the NL West with one month to play, but Ethier hasn't been shut down yet.
"If you're expecting me to do what I've done in the past, no, there's no possible way I can do that right now. You can say tough it out and give it your best shot, but it's not going to happen," Ethier said (
LATimes.com
).
"It's only going to get worse from this point," he continued (
LATimes.com
). "I've dealt with it all season long, but as the season goes on my body wears down. That's just the way it is — I keep getting put in the lineup, so what am I supposed to do?"
From that statement, it almost seems like Ethier thinks he should be shut down, and it's hard to blame him -- though he did tell the L.A. Times he thought there was "value in finishing what you started."
Still, the team isn't going anywhere this season and he's playing well below what he's accustomed to doing, likely because of the injury. Why don't the Dodgers just shut him down for the season and let him undergo his surgery now -- which would allow him to begin rehab sooner?
There isn't a great answer, unless you don't believe Ethier is hurt. General manager Ned Colletti almost sounds like he's in that camp.
"What am I supposed to be concerned about?" Colletti said (
LATimes.com
). "That he has those numbers [since the All-Star break], that he's hurt or contends he's hurt?"
Contends? So Ethier is faking it? That has to be the insinuation, doesn't it? Even during a five-game winning streak, the Dodgers front office continues to say all the wrong things.
For more baseball news, rumors and analysis, follow @EyeOnBaseball on Twitter or subscribe to the RSS feed.