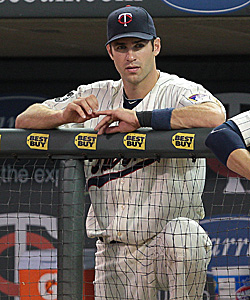 By Matt Snyder
The 2011 season has been as forgettable as one can possibly imagine for
Joe Mauer
. The four-time All-Star and 2009 AL MVP is hitting just .287 with basically no power -- his .349 slugging percentage is worse than
Alexi Casilla
's, for example. Mauer has missed 62 games, and the worst part is this has caused questions about his toughness. He didn't break or pull anything, instead Mauer's been saddled with lingering injuries attached with terms like "soreness" and "weakness." It didn't help that this came on the heels of an offseason when Mauer signed an eight-year, $184 million contract that might cripple the franchise if he doesn't return to 2009 form.
Further, Mauer's dedication to his teammates is being questioned, which is the worst possible question that could be asked about a team leader.
Sunday, ESPN.com's Buster Olney
wrote the following about Mauer
: "He probably is aware, too, that some of that unhappiness with his dedication exists within his own clubhouse, where his peers would be happy to see fewer Mauer commercials and more Mauer at-bats."
Mauer believes this is unfair.
"I think when I say 'unfair' it's more like, you know, like the other day -- questioning toughness," he explained (
TwinCities.com
). "Really, I mean, I'm not trying to sound (self-righteous), but how can somebody that's maybe been in the clubhouse once this year question toughness, and an athlete in general?"
Mauer also told reporters that he understands that he's going to be the one who takes the heat, being a former MVP and having that huge contract. He also has set the goal of entering 2012 the strongest he's ever been in his career. In fact, he has already made arrangements to upgrade his offseason training regimen.
"The biggest thing is having a regular offseason," Mauer said (
StarTribune.com
). "This year has been pretty tough for me, probably the toughest season I've been through, physically. Last year wasn't easy either. I had that heel injury and things kind if trickled down from that.
"It will be nice," he continued (
StarTribune.com
). "Hopefully I'll have somewhat of a normal offseason. I've got things in place. I've learned a lot over the last couple of years. I think I have the right people and program in place to have a good offseason."
Manager Ron Gardenhire sounds supportive, but firm, in speaking on Mauer's plans to work harder in the offseason.
"He realizes you can't sit around and do nothing as you get older. He's going to stay after it. We've talked about it," the manager said (
TwinCities.com
). "He's going to do some different things this winter, and prepare a little bit more and a little bit longer and come into spring training ready to go. That's the plan he has, and it's a good plan."
It's certainly going to be interesting to see how Mauer fares in 2012. It very well may be the most important season in determining whether or not his colossal contract was a mistake.
For more baseball news, rumors and analysis, follow @EyeOnBaseball on Twitter or subscribe to the RSS feed.