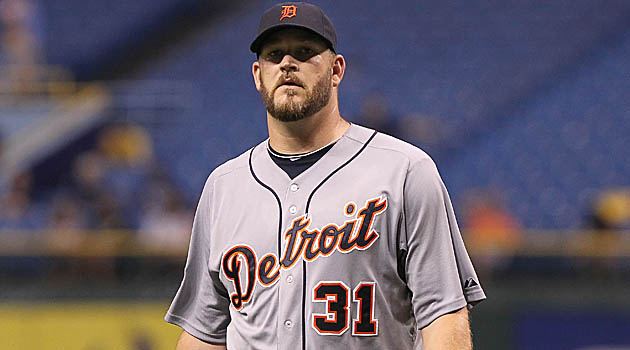 By Matt Snyder
In
Thursday's Pepper
, we passed along the story of
Tigers
pitcher
Brad Penny
yelling at
Rays
' infielder
Sean Rodriguez
while he ran hard after an infield popup. Rays manager Joe Maddon -- the
most popular manager there is
-- was furious after the game, believing Penny took issue with Rodriguez's hustle. I thought it was pretty ridiculous myself.
But Penny wanted to clarify things, obviously having heard the story spread a bit. He actually says he took issue with Rodriguez "screaming and cussing" in anger after having popped up.
"To me, that's a sign of disrespect if you're screaming that loud," Penny said (
TampaBay.com
). "All these kids can hear you, it's not too loud in here. So to me, that's not really professional."
Penny also noted he was disappointed anyone thought he didn't like hustle, saying he loves hustle and would be mad if players did not hustle.
It's hard to take issue with Penny trying to keep the ears of youngsters in Tampa Bay clean, but it's a bit odd to start yelling at an opposing player for it. As far as I could find via Google, this has never happened with Penny before. He's faced 7,819 batters in his career, so it's hard to believe an opposing batter has never cussed in frustration before. What about teammates of Penny over the years? Also, Penny currently plays for Jim Leyland -- have you ever read his lips when he's getting tossed from a game?
Again, I don't find fault with Penny wanting to prevent kids from hearing what is, frankly, going on in
every single baseball game of the season
. It just seems a bit odd that "watch your mouth" would ever be part of a major-league baseball game. As a parent, I'd like to express that it's my job to teach my children about inappropriate language and be their role model, not Penny's.
Berkman wants to come back:
Cardinals
outfielder
Lance Berkman
is enjoying a resurgent season for the Cardinals and he told reporters this week he wants to remain in St. Louis, if they'll have him. He said staying was his "first choice." (
MLB.com
)
#4TRUTH:
That hashtag is what jailed ex-MLB player Lenny Dykstra uses on Twitter after most of his tweets. It's seemingly to help promote that he's innocent in the multiple crimes for which he's been charged. Add another to the list, because he's now being charged with indecent exposure (
Associated Press
). He would allegedly place ads online for housekeepers or personal assistants and would expose himself to responders.
So long, Jim Hendry Way:
It's been a rough six weeks for Jim Hendry. Not only did he lose his job and have to act like he still had it for nearly a month, but now he's losing his street in Park Ridge -- where he lives. A portion of Northwest Highway was renamed Honorary Jim Hendry Way back in 2009, but now it's being changed back. Apparently, former Illinois governor Rod Blagojevich forced the name and the town never wanted it in the first place. Now that Blago is headed for the slammer, the sign is coming down. To rub salt in the wound, check out this quote: "Of course, if he had brought us a World Series, I would have built a monument to him at the intersection. But, alas, all he brought us was
Alfonso Soriano
and
Carlos Zambrano
," mayor Dave Schmidt joked in an email (
ChicagoTribune.com
). Zing!
Crafty lefties:
In honor of the recently-deceased Mike Flanagan,
Joe Posnanski came up with a Crafty Lefty Hall of Fame
. Pretty cool stuff, as usual, from Joe.
25 things you didn't know:
Yahoo's Jeff Passan compiled a really interesting list
of 25 things we didn't know about baseball. For example,
Michael Young
and Howie Kendrick haven't popped out all season,
Jonny Venters
gets the highest percentage of grounders in a decade and
Brett Gardner
is the best defensive player in baseball.
Add another name to the list:
Thursday,
I presented several rumored names
on the
Cubs
' wish list to be the next general manager. We can add Dan Evans to the list, as the
Chicago Sun-Times
makes a good case for him. Evans is a Chicago native who grew up near Wrigley Field. He was an assistant general manager for the
White Sox
and then the
Dodgers
GM before the McCourt family took over and got rid of him. Evans was at the helm when
Matt Kemp
,
Russell Martin
,
Chad Billingsley
and
Jonathan Broxton
were drafted.
Futility:
Twins
catcher
Drew Butera
has a chance to do something pretty remarkably bad. He's hitting .160 with 200 plate appearances. Since 1975, no player in the majors has hit .160 or worse with at least 250 plate appearances. (
Hardball Talk
)
88's the goal:
Blue Jays
manager John Farrell wants to reach 88 wins this season. The significance is that it would tie the 1998 mark for the most wins since the Jays won the World Series in 1993 (
MLB.com
). That won't get them anywhere near the playoffs, but would an 88-74 record be enough for the haters to stop saying
Jose Bautista
plays for a "loser?" (
See comments
)
Happy Day-versary:
10,000 days ago, Jack Morris threw a no-hitter and Dwight Gooden made his major-league debut. (
Hardball Times
)
For more baseball news, rumors and analysis, follow @EyeOnBaseball on Twitter or subscribe to the RSS feed.