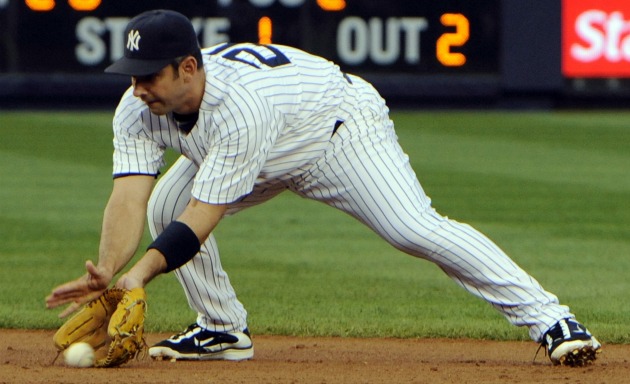 By Evan Brunell

On Thursday, the
Yankees
absolutely pasted Oakland by a
score of 22-9
, scoring four runs apiece in the fifth and sixth, and six apiece in the seventh and eighth to account for much of the scoring.
Most blowouts of that fashion include a position player taking the mound, but that didn't happen. Instead, what happened was
Jorge Posada
, he of 1,573 games as catcher and 39 at first, taking over second base.
"I got him badgering me and I got [hitting coach Kevin] Long badgering me and I think with everything Jorge has done for this organization, the numbers that he's put up and the year that he's been through this year, it was just hard to say no," Girardi explained to the
New Jersey Star-Ledger
as to why he sent Posada out to second base.
Posada has struggled through a lousy year, the 40-year-old starting the year without his catcher's job, DHIng instead. However, he's posted a scant .244/.323/.399 line, losing his starting job against left-handers earlier this season and losing it entirely more recently. It could be the final year in pinstripes -- if not in the game of baseball altogether -- for the 17-year veteran who has spent his entire career with the Yankees.
Posada previously played second in his first professional season with the Yankees, doing so as a 19-year-old in 1991 in low-Class A, making 64 appearances. Posada had made a deal with Girardi that he could grab his glove to play second if the Yankees scored at least 18 runs. A
Curtis Granderson
grand slam in the bottom of the eighth made that possible, and he trotted out for the top ninth. Posada made the final out of the game, although he needed help. Fielding a grounder, he tried to throw the ball as if he was throwing out a runner stealing second, and fired it into the ground.
Nick Swisher
made a nice play to dig the ball out to end the game, much to his (and the rest of the team) amusement.
"It's been a while, a long time since I've taken a ground ball in the middle of the infield," Posada said. "I knew it was coming to me that last out. There was no question, I knew it was coming right to me. I moved well, and got to the ball, and thank God for Swisher, a lefthander who made a good pick. I just threw it too hard. I got super-excited. That's it. That was bad."
"Now you see why they moved me behind the plate. I said I wanted to go in there, but I've got a good glove, no throw."
View the video of Posada's play here.
For more baseball news, rumors and analysis, follow @EyeonBaseball on Twitter or subscribe to the RSS feed.