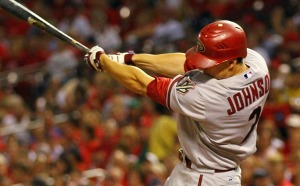 By Evan Brunell

Kelly Johnson
went from a team he enjoyed playing on that was in first place all the way to a fourth-place team with Toronto when he was dealt Tuesday.
"I think my first reaction," Johnson told the Arizona Republic, "was pretty much shock and then being disappointed."
Johnson also addressed his strikeouts, as GM Kevin Towers mentioned after the trade that he was pushing to become a more contact-oriented team after Arizona whiffed a teamwide 1,529 times, highest in the majors by a wide margin. It was a similar message he parroted in the offseason after taking over.
""Personally, I like contact hitters. I like guys that have good pitch recognition. Strikeouts are part of the game, but if you have four or five or six guys in your lineup, it's hard to sustain any sort of rally," he told reporters (
hat tip: SB Nation
) when agreeing to join the
Diamondbacks
as GM.
True to his word, Towers traded
Mark Reynolds
and let
Adam LaRoche
walk as a free agent, two of the biggest culprits as far as strikeouts go. Johnson has, over the course of his career, increased his strikeout proclivity, punching out 132 times in 481 plate appearances this season.
I think 'KT' would rather throw up three times a day after eating than have his team strike out a lot," Johnson said. "I know there (in Toronto), they're little more free-spirited about the idea of getting up there and getting the first pitch they see. I know it's a different philosophy. You never know what works. Obviously, it's worked in Toronto for some guys. They've struck out a lot and had some pretty good offenses in the past."
It's hard to argue against Towers' philosophy given the turnaround Arizona has engineered this season. After finishing 65-97 in 2010, the Diamondbacks now lead the NL West by two games. Of course, a lot of credit goes to 'Zona's remade bullpen and resurgences from certain players. Still, Towers seems to be working his magic once more.
For more baseball news, rumors and analysis, follow @EyeonBaseball on Twitter or subscribe to the RSS feed.