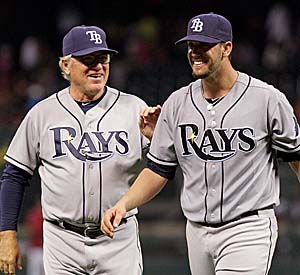 By Matt Snyder
As long as you aren't an umpire drawing his ire,
Rays
manager Joe Maddon seems like a pretty likable guy.
A poll by SI.com
of 291 major-league players backs up such an assertion as well, as Maddon was voted the most popular manager in baseball. He reportedly received roughly 14 percent of the vote, which comes to 41 votes.
In typical Maddon fashion, he tried to avoid taking much of the credit.
"My first response is it's really a humbling thought," he said (
TampaBay.com
). "The second one is that it means we're doing a lot of things right here … and I want to emphasize the word
we
there."
Red Sox
skipper Terry Francona was a very close second with 12 percent of the vote. SI.com listed the top 15 (of 30 total teams), and here they are, in order:
3. Jim Leyland,
Tigers
4. Mike Scioscia,
Angels
5. Dusty Baker,
Reds
6. Ozzie Guillen,
White Sox
7. Joe Girardi,
Yankees
8. Tony La Russa,
Cardinals
9. Ron Gardenhire,
Twins
10. Bud Black,
Padres
11. Charlie Manuel,
Phillies
12. Ron Washington,
Rangers
13. Jim Tracy,
Rockies
14. Bruce Bochy,
Giants
15. Don Mattingly,
Dodgers
Keep in mind, the players weren't asked to rank the managers, just to pick one. So some managers could have been the second most liked by many players and not gotten many votes.
Hat-Tip:
Hardball Talk
For more baseball news, rumors and analysis, follow @EyeOnBaseball on Twitter or subscribe to the RSS feed.