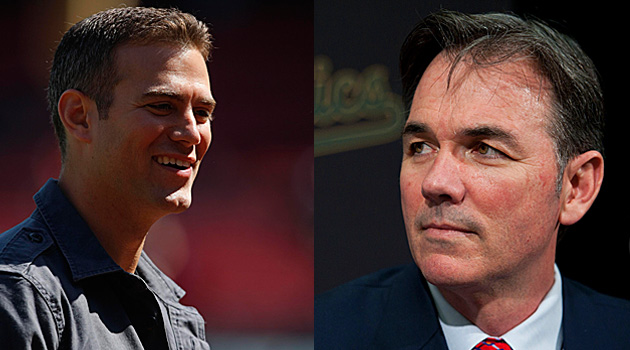 By Matt Snyder
Friday will mark exactly one week since the
Cubs
announced
they had fired general manager Jim Hendry
. Cubs' chairman Tom Ricketts asserted he wants to find a GM with a strong track record, an analytical background and with an emphasis on player development. The latter two criteria would seem to point to someone opposite of Hendry -- who had a
recent history of big contracts
and trading prospects for veterans. The former criterion points to an experienced general manager, not a first-timer.
So many names have been tossed around for what is absolutely an attractive job. Now, this is where the Cubs haters all jump up and down and start screaming about how bad the Cubs "suck." No one in his right mind can deny nearly any general manager would want this job, though. As the Cubs' general manager, one would have the capability to work with a payroll that dwarfs any other in the NL Central. One would have a rabid fan base that is absolutely desperate for a World Series, so residing over one would be the ultimate sports accomplishment. Also, in the present, the Cubs have more than $50 million falling off the payroll next season, so there's a chance to basically start over. No ballclub can compare to the resources the
Yankees
have, but there's no reason the Cubs can't eventually be the
Red Sox
of the National League -- and there is no Yankees in the NL.
With this in mind, you'd have to figure almost every name is initially in the mix with few exceptions. And it sounds like that's true. Let's sum up the recent rumors:
•
ESPN's Buster Olney
said earlier this week that Red Sox GM Theo Epstein "could" be a name for the Cubs to consider. What Epstein did under John Henry's ownership group is something similar to what the Cubs want under the Ricketts family, so it makes sense. Of course, Epstein also has very strong Boston roots and is currently in a better situation than what he'd be taking over with the Cubs. Unless he wants a fresh, new challenge or is simply tired of competing with the Yankees, it doesn't seem like he'd have any incentive to leave. For what it's worth, Henry emailed Red Sox reporters about the speculation:
"This kind of speculation happens from time to time to successful GMs and managers," Henry wrote (
BostonHerald.com
). "The Cubs have one of the best presidents in baseball. I think this shows how highly regarded Theo is by the media and baseball in general."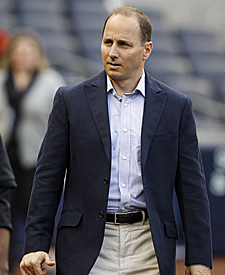 • Speaking of AL East powers, a "long-odds" option is Ricketts calling Yankees general manager Brian Cashman and trying to convince him to head to Chicago as a package deal with manager Joe Girardi. Cashman's contract does expire at the end of the season. (
SunTimes.com
) This is total speculation on my part, but there's not much more Cashman could accomplish with the Yankees and he could very well be tired of ownership forcing his hand (a la the
Rafael Soriano
contract this past offseason that he didn't want to give). Also, keep in mind Girardi had two different stints with the Cubs as a player and was born and raised in Peoria, Ill. This scenario makes sense, if Ricketts could convince the two to leave New York. But, again, this was reported as a long shot.
• More AL East:
Rays
executive vice president Andrew Friedman has been named by pretty much every reporter in the business as a possibility. Friedman should be incredibly attractive because of what he's helped do with the Rays. He now has experience building a farm system basically from the ground up and in Chicago he'd be able to sign and keep higher-priced players. He also wouldn't have to worry about attendance or moving.
ESPN's Olney wrote
about Friedman's tough decision this coming offseason.
• Another small-market guy who might enjoy getting to have a few extra payroll dollars for once is A's general manager Billy Beane.
According to Susan Slusser of SFGate.com
, Beane "might consider an offer" if the Cubs came after him. Slusser also reports the Cubs are "expected" to talk to Beane. Another reason Beane might want to bail on Oakland is how long it's taking to get the A's stadium situation resolved. Beane is signed through 2014, but the report indicated owner Lew Wolff would let Beane out of the deal if he wanted.
•
Dodgers
GM Ned Colletti is an option, despite that he's a bit more old-school than Ricketts seemed to say he preferred. In the case of Colletti, one reported benefit would be that he'd bring Hall of Famer Ryne Sandberg back to the organization as the Cubs' manager, the job which Sandberg didn't get last season. (
SunTimes.com
)
• On the flip-side of much of the above notes, SI.com's Jon Heyman reported that the big names -- Cashman, Beane, Epstein, Friedman -- are not likely to take the job. Heyman instead reports it's going to come down to Rick Hahn and Josh Byrnes. Hahn is the vice president and assistant general manager of the
White Sox
and is considered a true up-and-comer by several in the business. In fact, several outlets have ranked him as the top GM candidate in baseball (excluding current GMs). The issue, of course, is he doesn't have experience as the top dog. Byrnes is the vice president of baseball operations for the
Padres
and has previously been the GM of the
Diamondbacks
. He had a hand in putting together the 2007 playoff team, but when things fell apart afterward, he was fired in 2010.
• According to Danny Knobler of CBSSports.com, Cashman is "very unlikely" and the Cubs might have to pay something like $10 million a year to pry Epstein away from Boston.
So there you have it. Several huge names, a hot-shot up-and-comer and lots of things we don't know. We need to keep in mind that initial interest in either side doesn't necessarily mean a job offer -- or acceptance of the job offer -- is coming. We also have to keep in mind that guys presently on the job, especially those in the middle of pennant races, will publicly deny interest no matter what.
Ricketts will likely want a new GM in place very quickly once this season ends, but until then -- about five weeks -- we'll continue to see the names swirl.
For more baseball news, rumors and analysis, follow @EyeOnBaseball on Twitter or subscribe to the RSS feed.