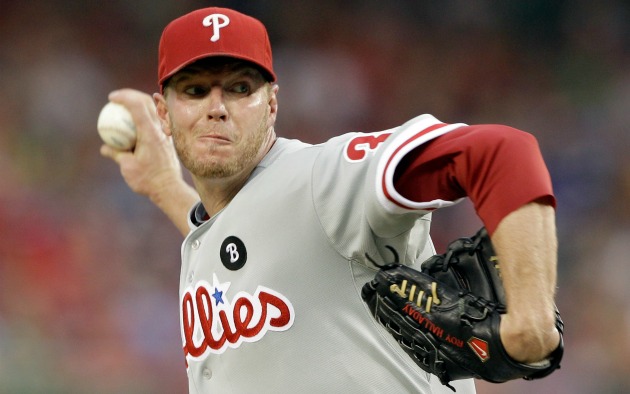 By Evan Brunell
Here's an easy question: Who are the MVPs in the AL and NL?
Not so easy, right?
There are plenty of candidates for the award, players you've certainly heard of before.
Jose Bautista
,
Curtis Granderson
,
Jacoby Ellsbury
in the AL.
Ryan Braun
,
Matt Kemp
,
Prince Fielder
in the NL. All good players.
All position players.
What about pitchers?
Justin Verlander
is having a sublime season for the
Tigers
.
Roy Halladay
is nailing down his reputation as one of the best pitchers to ever take the mound. Yet, pitchers are rarely considered for the MVP award, with the last victor coming in 1992 with
Dennis Eckersley
. The closest since was Pedro Martinez in 1999, when he lost out to
Ivan Rodriguez
because
two sportswriters left Martinez off their ballot completely
. Never mind that one of the sportswriters,
George King of the New York Post
, had Rick Helling and David Wells on the ballot the year before. (In fortuitous timing,
Marc Normandin of SB Nation wrote
Wednesday about Martinez and how Halladay and Verlander will have an uphill battle if Martinez couldn't even win the MVP.)
"It really made [writers] all look very dumb," Buster Olney, who covered the
Yankees
for the
New York Times
at the time, told
Baseball Digest
. "People were operating under different rules. The question of eligibility is a very basic thing. People were determining eligibility for themselves."
1999 is a long time ago, but Olney's sentiments could be repeated today. Voting for the MVP is a mess, as everyone comes to it with their own preconceived notion of who qualifies for the MVP award, and one of the bigger touchstones of the argument is whether a pitcher should be eligible. For the purposes of this discussion, we're not going to debate the merits of Verlander as opposed to Jose Bautista, or even to
Jered Weaver
. What we want to learn here is if pitchers should be on the MVP ballot, and if so, how important they should be weighted.
Taken straight from the actual MVP ballot, as was
e-mailed to C. Trent Rosecrans when he voted for the NL MVP in 2010
, are the following guidelines:
1. Actual value of a player to his team, that is, strength of offense and defense.
2. Number of games played.
3. General character, disposition, loyalty and effort.
4. Former winners are eligible.
5. Members of the committee may vote for more than one member of a team.

Keep in mind that all players are eligible for MVP, including pitchers and designated hitters.
While the latter three points are irrelevant to the debate, we immediately run into an issue to start. The first guideline is that the value of a player on offense and defense need to be considered when voting, which would seem to exclude pitchers, even though the ballot takes care to mention that pitchers are included. Where the heck is the pitcher supposed to contribute? One could argue that a pitcher's value can be considered part of defense. I polled several colleagues of mine in baseball, the vast majority contending that a pitcher's value should be considered part of defense. Take the definition of defense a step further, and the inclusion of pitchers becomes clear: "defense" can really be thought of as "run prevention," which is the primary (and really, only) job of a pitcher.
So a pitcher counts, even if he might be dinged for his lack of offense.
What about the next point, though? "Number of games played."
Most starting pitchers are lucky to get to 33 games started. That's just 20 percent of the entire season's 162 games. Relievers play in far more games, but even then, the percentage isn't anything to get worked up about. Dennis Eckersley, the last pitcher to win a Cy Young Award and did so as a closer, appeared in 65 games, or 40 percent of the entire season. That percentage would plummet below starting pitchers if you changed the scaling to total innings in a season, not games, so no matter what, a pitcher is not even close to being responsible for half the team's games.
That's a pretty damning guideline against pitchers, but guidelines are just that -- guidelines. If a pitcher is extraordinarily valuable to his team, that should outweigh the amount of games he's appeared in, especially given precedent has already been established with 20 pitchers winning the award. Those who want to adhere to the guideline strictly are welcome to do just that and ding pitchers for their contributions in that department, but it should not by any means prevent a truly great pitcher from snagging the award.
Take Roy Halladay, for example. He's a starting pitcher who has appeared in 26 games to date, yet he outpaces everyone else in the NL in Wins Above Replacement (Fangraphs version). Halladay's 6.9 WAR stands above
Shane Victorino
and
Justin Upton
's 6.2, with Upton playing in 128 games, or almost five times as many games as Halladay. Yet, it's hard to argue against Halladay having been the most valuable player in the NL, and he's a pitcher. Can you really hold games played against Halladay? No, you can't.
But should we really be comparing games played? Isn't a better way to compare hitters and pitchers to look at plate appearances? After all, if someone pinch-hit in all 162 games and received exactly one plate appearance per game and registered a hit in each one, his batting average would be 1.000... and yet, not qualify for the batting title. And this is someone that, by the guidelines of games played, should be considered over a pitcher.
Looking at plate appearances, last year's NL MVP award winner in
Joey Votto
walked to the plate 648 times. How many batters did Halladay, the 2010 NL Cy Young Award victor, face? That would be 993, or 53 percent more times Halladay faced a batter at the plate than Votto walked to the plate.
Aside from the guidelines, the most popular argument against pitchers winning the MVP centers around pitchers having their own honor in the Cy Young Award, and it makes sense that people would treat the MVP and Cy Young as two separate awards for two separate pools of talent. But that's just not the case. The MVP award is open to all players, pitchers included. You want an award just for hitters? Feast your eyes on the
Hank Aaron Award
, given annually to the best hitter (so defense doesn't count). The award isn't well-known, perhaps due to the award only starting in 1999, or because it's not part of the awards that the Baseball Writers Association of America gives out (the Cy Young Award and MVP award are part of the BBWAA's domain), but it's there. Hitters are not being penalized by having to share the MVP with pitchers.
The debate on whether or not pitchers should win the MVP contributed to robbing Pedro Martinez of his rightful award in 1999. Let's not make the same mistake in 2011.
For more baseball news, rumors and analysis, follow @EyeonBaseball on Twitter or subscribe to the RSS feed.