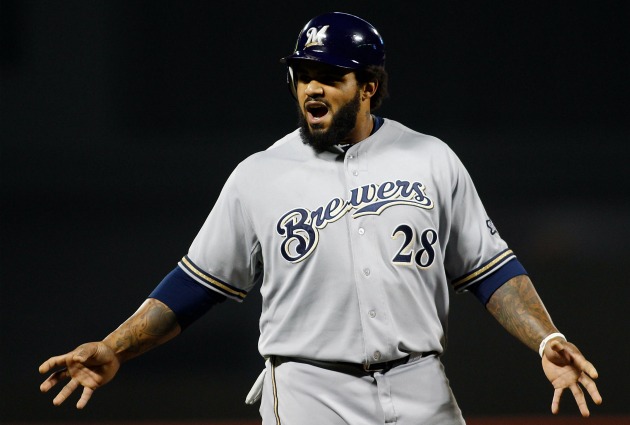 By Evan Brunell

Cross out the
Nationals
as a destination for
Prince Fielder
, a source in the Nationals organization tells
Bill Ladson of MLB.com
.
It's not every day that a team would turn down Fielder, but the Nationals have two first basemen under contract --
Adam LaRoche
and
Michael Morse
. LaRoche is done for the year due to injury, but hit a disappointing .172/.288/.258 in 43 games before going down. All due respect to LaRoche, but the $8 million on his 2012 contract shouldn't preclude Washington from going after Fielder as it would be a clear upgrade. No, where the catch comes is Morse, who is currently the first baseman in LaRoche's absence.
After tantalizing Washington the last two years with his potential to break out, the 29-year-old has done so in style with a .317/.373/.550 mark this season with 21 taters in 440 plate appearances. By the time the season ends, he will have doubled (or come close to it) his previous career high in plate appearances. Morse will move back to left field to make room for LaRoche, and he's the real reason why the Nats may not need to go after Fielder. If LaRoche fails, the team simply moves Morse to first base.
But why not just keep Morse in left permanently and sign Fielder? If it's the best upgrade the team can make, it's one that it should pursue. Thing is, it may not be the best upgrade the team can make; the depth at first guarantees that. What the Nationals really need are a center fielder and leadoff hitter, which isn't mutually exclusive. Washington had been chasing
Denard Span
of the
Twins
,
B.J. Upton
of the
Rays
and
Michael Bourn
of the
Braves
, formerly of the
Astros
. However, GM Mike Rizzo balked at the price, so no move was made. Things could change in the offseason, and if and when it does, it will cost a good package of young players. In that case, the Nats may elect to hang onto its draft picks that it would have to cough up in any Fielder signing in order to replenish the system after the trade.
Assuming Washington truly isn't going to go after Fielder (and I don't buy that), it dwindles Fielder's market even lower to the point one has to seriously consider if Fielder could head back to Milwaukee. All but one team currently with a payroll over 100 million (in order from highest to lowest:
Yankees
,
Phillies
,
Red Sox
,
Angels
,
Mets
,
Cubs
,
White Sox
,
Giants
, Twins,
Cardinals
,
Dodgers
,
Tigers
) won't make a run for various reasons. The Cubs could make a go of it, but that would be a bold step for an incoming GM to make for a team that needs a lot more than Fielder to become competitive again. Other than that, the other teams either have financial issues or are blocked at first base. The only team in which Fielder makes sense are the Angels, and as we've seen over the last few years, Los Angeles' decisions when it comes to free agency are curious, and it's no sure thing it will pony up for Fielder.
So, suddenly, Fielder's next-biggest suitors are in a payroll bracket that Milwaukee might be able to contend with. Fielder previously turned down a five-year, $100 million contract to stay in Milwaukee. If that was within Milwaukee's budget, then any eventual deal with Fielder could be right in the
Brewers
' wheelhouse. Fielder has long been considered a goner for quite some time, but his future in town is far from certain.
For more baseball news, rumors and analysis, follow @EyeonBaseball on Twitter or subscribe to the RSS feed.