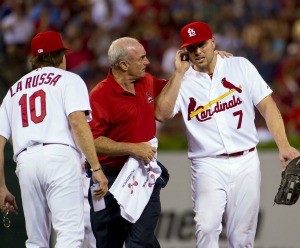 By C. Trent Rosecrans
Costing Matt Holliday a plate appearance cost a moth its life on Monday.
"It died from an overflow of wisdom that he got in my head," Holliday told Derrick Goold of the St. Louis Post-Dispatch before Tuesday's game against the Dodgers.
Goold noted that Holliday said he had no hand in the moth's death. Although he didn't kill it, he did have it on display in his locker in a plastic bag.
Holliday wasn't available to the media after Monday's 2-1 loss to the Dodgers, but spoke about the incident on Tuesday. Holliday said he tried to get the moth out himself for two pitches before he called for a trainer. He said it felt like he had water stuck in his ear.
Of course, I wouldn't be surprised if this weren't all some ploy by Tony La Russa, like in Star Trek II; The Wrath of Khan when Khan puts those mind-controlling worms in Chekov and Captain Terrell's ears and controls them. Perhaps La Russa needed someone to infiltrate the clubhouse and take his side on the Colby Rasmus (and Brendan Ryan) banishment.
Really, I'd just like to see Shatner do the Khan scream with La Russa -- I'm sure plenty of baseball fans can understand -- especially when La Russa makes yet another trip to the mound to change pitchers.
For more baseball news, rumors and analysis, follow @eyeonbaseball on Twitter or subscribe to the RSS feed.