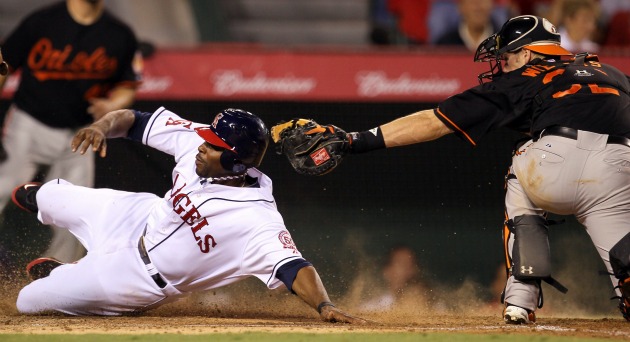 By Evan Brunell

When
Torii Hunter
signed a five-year, $90 million deal to join the
Angels
for the 2008 season, it wasn't seen as a steal, but it wasn't considered a gross overpayment, either.
Hunter was considered one of the best center fielders in the game on defense for years and could swing a pretty good stick to boot. For the first three years of the contract with L.A., all was well. Hunter played center and hit .285/.354/.477 over these three years, slamming 66 home runs and stealing 46 bases, better sustained production that he had contributed in Minnesota, his former home. Except last season, signs of age began creeping through.
While Hunter didn't disappear with the bat, he did post his worst Angels season by hitting .281/.354/.464. Clearly not shabby, but his second half was significantly worse than his first half (.906 OPS in the first half compared with .714 in the second), and his year was topped off by Los Angeles asking Hunter to move to right field to open up room for
Peter Bourjos
in center. Hunter had lost a step to age and hadn't been the same defensive wizard in some time that his reputation continued to carry, and his value took yet another hit.
More decline was in store, though.
With the bat in 2011, Hunter was significantly worse through July, causing some to wonder if the 36-year-old was cooked. Hunter's .232/.307/.378 line was far from worth the $18.5 million he was earning on the year, but since the calendar flipped to August, Hunter has been doing his best to reclaim some lost magic. He ripped off an 18-game hitting streak that ended on Monday, but even including the 0-for-5 night, Hunter's hitting .389/.443/.625 in August. Obviously, he won't sustain that pace, but it's encouraging to see such a sustained, hot streak from Hunter.
Expecting Hunter to live up to his salary in 2012 (also at $18.5 million) is a pipe dream, but Hunter isn't necessarily cooked as a hitter. His power has slipped and his .256 batting average, if it holds, would be his lowest since 2003, when he had a .250 mark. Still, Hunter figures to crack 20 home runs for the sixth straight season, and 10th out of 11. He may not be the same anymore, but he still has something left to offer.
For more baseball news, rumors and analysis, follow @EyeonBaseball on Twitter or subscribe to the RSS feed.