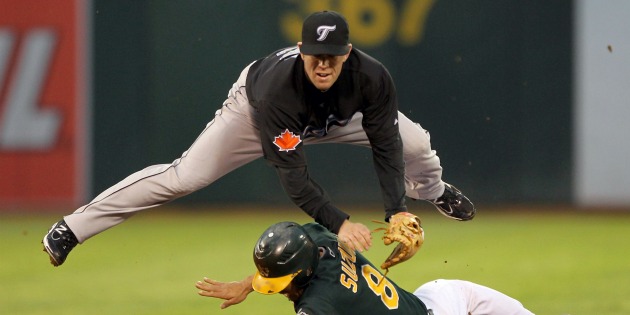 By Evan Brunell

Aaron Hill
has been traded to the
Diamondbacks
in a surprising move. Hill and infielder
John McDonald
were sent to Arizona in exchange for second baseman
Kelly Johnson
in what appears to be a change-of-scenery deal.
The trade is primarily constructed around one struggling second baseman being moved for another, with Hill once hitting 36 homers in 2009, his career season to date. The 29-year-old also had a strong year in 2007, but since then has fallen off a cliff. In 2011, Hill is hitting just .225/.270/.313 and is one of the worst offensive hitters in the game, as I
outlined last Monday
, saying "[Hill] still has a good chance to return to being a league-average player, but anything above and beyond that at this point is just wishful thinking."
To GM Kevin Towers of Arizona, though, Hill isn't wishful thinking. He's a risk, sure, but one that Towers would prefer to take over than continuing to play Kelly Johnson, who began the year as starting second baseman but has seen his playing team decrease; hitting just .181/.246/.324 since the All-Star break will do that. In reality, Johnson has only had two good months, that being May and July. These months are why Johnson is hitting .209/.287/.412 overall. Still, it's better than Hill, and Johnson has a better shot at recapturing past glory, as he has strong seasons in 2007, 2008 and 2010 in his resume.
"He's struggled to put together a year like he had last year," Diamondbacks manager Kirk Gibson told the Associated Press. "It wasn't from a lack of work. To be honest with you, it was very tough to tell him he got traded today. He has high expectations of himself, he's very professional. He worked harder -- he probably worked too hard."
Johnson is an impending free agent, but currently qualifies as a Type-B free agent, which would net the Jays a compensatory pick. Anthopoulous greatly values acquiring picks and has made moves in the past to pick up players who can return draft-pick compensation. Of course, Johnson could always mess things up and accept arbitration, but his ensuing contract would be far from crippling. A hot streak to finish the season could also vault Johnson into Type-A territory, although it's difficult to imagine a team willingly giving up its first-round pick to sign Johnson to a deal in that case.
Hill is also slated to be a free agent assuming Arizona doesn't pick up $18 million in club options to pay Hill over the next two years, which it won't. That will allow Hill to walk, and he will likely qualify as a Type B free agent. The better chances of Johnson recapturing his value is where John McDonald comes in. McDonald is a backup infielder who can't hit, but does provide strong defense. That's in high demand for Arizona, who needs more bodies behind starting shortstop
Willie Bloomquist
with incumbent
Stephen Drew
out for the season with injury.
Given that both principal players in the deal will both be free agents and both likely to fetch similar compensation picks, this deal smacks of a change of scenery. Johnson wasn't working out anymore in Arizona, and with a division race to worry about, Towers grabbed a replacement second baseman with prior success that could break out in the desert, while adding a quality backup infielder. The Jays, meanwhile, get someone with a touch more upside and a better chance to stick long term, so one could argue that Toronto came out on top of the deal.
The Diamondbacks transferred starting pitcher
Jason Marquis
to the 60-day disabled list to clear out room for Hill and McDonald on the 40-man roster, while the Jays called up catcher Brian Jeroloman.
For more baseball news, rumors and analysis, follow @EyeonBaseball on Twitter or subscribe to the RSS feed.