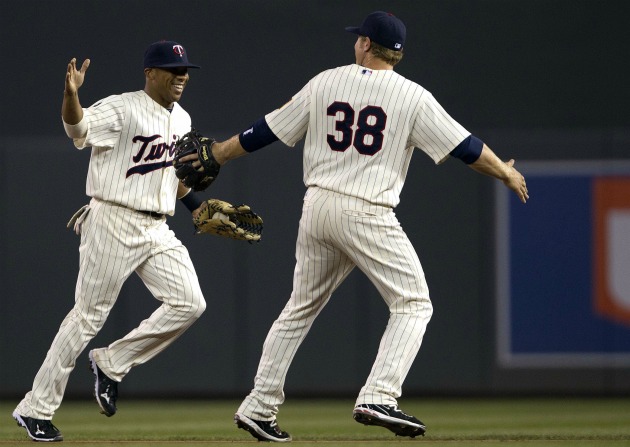 By C. Trent Rosecrans
Fans in Minnesota have seen their fair share of great plays by Twins center fielders over the years -- Torii Hunter is one of the best defensive outfielders to ever play the game and Kirby Puckett made plenty of highlight catches -- but Monday night may have seen the best catch ever by a Minnesota center fielder when Ben Revere robbed Baltimore's Vladimir Guerrero to end the seventh inning of Minnesota's 4-1 loss to the Orioles.
You can watch the play here.

Revere had to run back on a full sprint to try to track down Guerrero's shot to the deepest part of Target Field, he then lept with his back facing home plate, looking back straight over his head and caught the ball just before it hit the wall.
"That might be one of the best catches I've ever seen considering he ran 50, 60 yards to catch the ball," manager Ron Gardenhire told reporters, including the Associated Press after the game. "And then all the way over his tead and jumping into the wall. That's probably one of the yes you're going to see."
Revere surprised even himself, having to look into his glove when he got up to make sure he caught the ball.
"I saw the way my glove ran into the wall and I bounced off," Revere told the AP. "When I saw (Michael) Cuddyer and (Jason) Kubel, their jaws just dropped. … I looked in to make sure it don't come out. I was sort of like, 'I did! It didn't come out! Wow!'"
Wow indeed.
For more baseball news, rumors and analysis, follow @eyeonbaseball on Twitter or subscribe to the RSS feed.