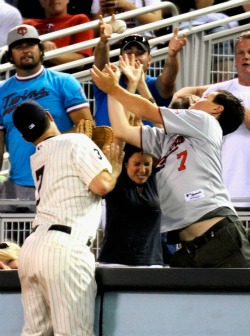 By C. Trent Rosecrans
Former Twin J.J. Hardy made the most of his second chance on Monday, giving the Orioles the lead in the fifth inning with a solo homer off of Carl Pavano. However, it looked as if Hardy would be retired when he fouled off the second pitch he saw near the stands on the first-base side when a fan in a Joe Mauer jersey had the ball bounce off his hands as the real Mauer tried to lean over the railing to make the catch. Four pitches later, Hardy launched a fastball into the seats in left field for a 2-1 Baltimore lead.
Even though fans booed both Hardy and the fan for setting up the home run, Twins manager Ron Gardenhire refused to blame the fan. From Joe Christensen of the Star Tribune:
"The ball was in the stands," Gardenhire said. "If you're a fan, you've got two choices: reach up and catch the ball, or let it hit you in the head and hope that Mauer catches it.
"C'mon. If you're sitting there in the stands, you're going to try to catch the ball. It's the same way with [Steve] Bartman. You're going to try to catch the ball if you're a fan.
"You can't blame our fans for reaching up and catching the ball. You can boo him, like I heard, but they're going to try to catch it. Joe would have caught the ball. He had a chance to catch the ball, but that's not why we lost the game."
Hardy said he appreciated the help.
"Someone was saying he had a Hardy jersey on," Hardy joked to the Associated Press. "Any time you get a second chance, it's nice."
For more baseball news, rumors and analysis, follow @eyeonbaseball on Twitter or subscribe to the RSS feed.