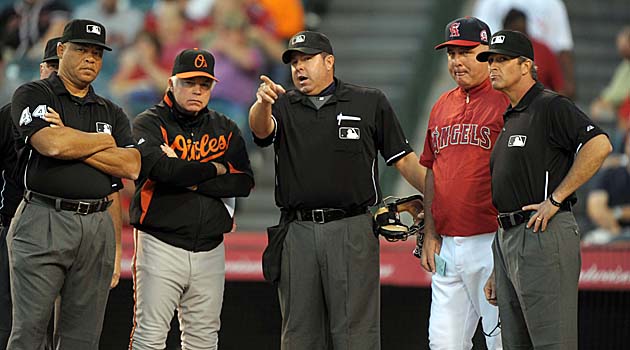 By Matt Snyder
Just minutes ago,
Johnny Damon
of the
Rays
hit what was initially ruled a grand slam. Replays showed the ball hit the very top of the wall -- directly on the yellow line -- and bounced far up into the air, only to come down in the field of play. The umpires reviewed the play and properly ruled it was not a home run. Considering the bases were loaded, the umpires were then tasked with basically guessing where everyone should be. They ruled Damon with a double and the three runners all scored. It gave the Rays a 7-5 lead. (
Click here to watch the video on MLB.com
).
Now, I don't have a problem with this particular call, because
Desmond Jennings
-- who was on first -- was clearly going to score on the play. I just don't like the approach. We're asking umpires to try to guess what would have happened if they initially ruled the ball in play, but no one can really say what would have happened. Using this particular play as an example, what if Damon tried to stretch his double into a triple and was thrown at third base?
So I got to thinking, why doesn't the MLB just have the umpires approach near home runs like the NFL officials approach possible fumbles that are very close? More specifically, shouldn't the umpires always rule close calls in play? Think about it, you can easily correct upward and rule a home run, which scores every baserunner, but you cannot be 100 percent sure in the accuracy of correcting downward. It's a veritable guessing game, so let's take the guesswork out of the equation by making a simple change to the approach.
Since professional sports leagues usually wait until something bad happens instead of having foresight, nothing will be done until there's a huge argument in a playoff game -- or something involving a money player like the
Yankees
,
Red Sox
or
Phillies
-- but it's certainly something that could easily be fixed without changing any rules. Joe Torre's office can simply spread the word to umpires to always err on the side of ruling a ball in play. Replay is there as a backup plan, so it should be used to minimize human error.
For more baseball news, rumors and analysis, follow @EyeOnBaseball on Twitter or subscribe to the RSS feed.