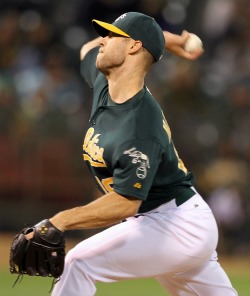 By Evan Brunell

On Friday night,
Rich Harden
showed flashes of the dominance that has given him chance after chance to pitch in the majors despite being one of the most brittle baseball players to play the game.
Harden struck out 11 batters, including striking out the side on nine pitches in the first after loading the bases on an error and two walks. He walked a total of four batters and allowed just two hits in a near-unhittable performance over seven innings, downing the
Blue Jays
. It was a great game for scouts to watch, as the
San Francisco Chronicle notes
that scouts from several teams in contention have been keeping tabs on Harden, including the
Yankees
, who took in Harden's previous two starts.
Any sour taste left in New York's mouth after seeing Harden give up four runs in four innings to the
Rangers
on Aug. 14 was certainly erased by this past outing, and it's easy to see Harden being moved before Aug. 31. After all, it's not as if he's untouchable -- Oakland had agreed to ship Harden to the
Red Sox
at the trade deadline for prospect Lars Anderson and a player to be named later. When the Red Sox didn't like Harden's medicals, they balked on the PTBNL, and the A's scrapped the deal entirely. Boston acquired
Erik Bedard
instead, and now it's entirely possible that Harden will be pitching against Boston down the stretch, donning pinstripes.
For more baseball news, rumors and analysis, follow @EyeonBaseball on Twitter or subscribe to the RSS feed.