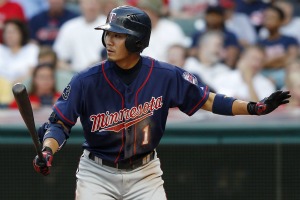 By Evan Brunell

When
Tsuyoshi Nishioka
ended up with the
Twins
after a successful career in Japan, the prevailing opinion was that while Nishioka wouldn't be a star, he would be a more than capable second baseman.
Well, not so much.
Nishioka broke his legs mere days into the season as the Twins' second basemen, and suffered a lengthy absence before returning as a shortstop and seeing his bat vanish. Over 217 plate appearances, the Japanese import has hit .217/.257/.241. Among batters with at least 200 plate appearances on the season, Nishioka's .218 wOBA (similar to OPS, but tweaked slightly and scaled to OBP) is third-worst in baseball behind catcher
Jeff Mathis
of the
Angels
and shortstop
Reid Brignac
of the
Rays
.
But assistant GM Rob Antony
told XM Radio
that Nishioka deserves a "mulligan," believing Nishioka can bounce back next season.
The switch-hitter did bat .304/.379/.443 in Japan, so there is indication that he can fare better in the majors once he gets into a groove. Nishioka needs to improve his plate discipline if he wants any hope of bouncing back, though. While he swings at pitches less than the average hitter, he's walked just 10 times on the year and has to an extent been unlucky on making contact with pitches outside the strike zone. Nishioka has connected on 82.5 percent of his swings at pitches outside the strike zone, compared with a league average of 68.2 percent. Given the pitches are out of the strike zone, it stands to reason that many of Nishioka's batted balls in such instances are simply turned into easy outs. Improving his plate discipline to lay off these pitches would allow for better pitches to come along where Nishioka could do more damage.
For more baseball news, rumors and analysis, follow @EyeonBaseball on Twitter or subscribe to the RSS feed.