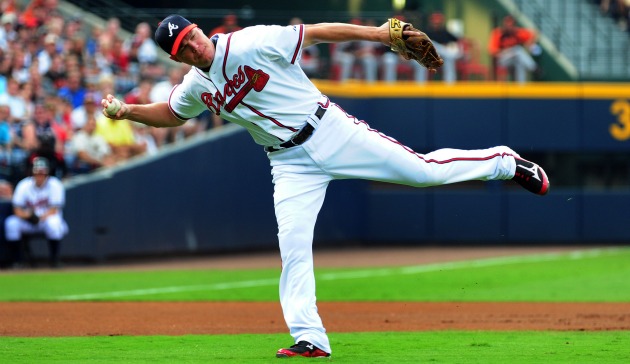 By Evan Brunell

Chipper Jones
has confirmed his intention to play next season, paving a return to the hot corner for the surefire Hall of Famer.
"I'm playing next year," Jones told the Atlanta Journal-Constitution on Friday. "I still feel like I can go out there and play a good third base and be a threat, at least, at the plate. I'm having a good defensive year and the [batting] average is on the rise."
Injuries have sapped Jones of his productivity recently, as Jones suffered a season-ending injury to his ACL last August, fueling speculation that he would retire. Jones was able to start the season on time after just 95 games last year, but battled through tearing cartilage in his right knee earlier this season, which eventually led to arthroscopic surgery on July 9. Jones injured his right quadriceps the night he returned -- July 25 -- but has continued to be productive over that time span and is currently in a nice groove at the plate. Jones is hitting .382/.405/.647 in August.
"Now that the legs are starting to get healthy, you're starting to see some more extra-base hits," Jones noted. "If I end the season with 50-plus extra-base hits, that's pretty good. I mean, that was really all I could ask for, a lot of doubles and some homers.
"But the bottom line is, be productive and go out there and produce runs. That's the name of the game."
With 11 homers, a triple and 26 doubles, a season with 50-plus extra-base hits is still within reach, which would give him 13 such seasons. There are 14 total players in baseball history with at least 12 seasons of 50-plus extra-base hits, including active players in Carlos Lee and Bobby Abreu. One of these home runs came Thursday off Tim Lincecum, moving him to 25th on the all-time list, two behind Jeff Bagwell and five behind Carl Yastrzemski, and tallying up 2,580 hits. With Jones returning next season, he should inch closer to the hallowed milestones of 3,000 hits and 500 home runs, but Jones doesn't believe he can reach those marks.
"I dare say I don't think I'm going to scare 3,000 [hits] or 500 [homers]," Jones said. "But whatever my legacy is, it's probably already been written. So nothing I do through the end of this year and next year is going to really change that, I hope. I guess you could probably do some damage to it, but I don't see that happening. Especially the way I feel right now."
Jones admits to taking "a lot of pride" in the fact he has a career batting average of .304 and OBP of .403.
"Those are awfully big numbers over an 18-year career. But that's not what drives me. I want to punctuate my career helping these guys win a championship."
Jones will earn $14 million in 2012 in the final year of his guaranteed three-year contract. He also has a $9 million option that vests if he plays in 123 games next season or averages 127 games this season and next. At 92 games entering Friday, Jones would need to play in 35 of the 37 remaining games to reach 127 games on the year. His 2013 salary could also rise based on games played in 2012, but Jones isn't prepared to make any type of decision on 2013.
"That's going to be a big decision for me, because you've got to weigh whether it's worth it to be away from home for eight months," he said. "You've got to weigh whether you can tolerate the amount of pain that you deal with on a daily basis, and then how much you're helping the team and how much possibly the money that's paid to you can be used to better the ballclub in other areas.
"I'm not really ready to make that [2013] decision yet. We sit here right now and I feel good, I'm being productive, I'm having fun, we're winning. I like to think that if I can keep my knees and my leg muscles intact for any period of time, that I can still put together a pretty good season. But even if I do that [in 2012], I may just say I'm ready to do something else."
For more baseball news, rumors and analysis, follow @EyeonBaseball on Twitter or subscribe to the RSS feed.