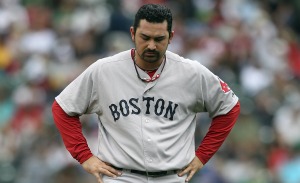 By Evan Brunell

Before Friday's first-inning double, freshly shaved
Adrian Gonzalez
had been mired in a 0-for-14 skid. While that skid may be over, Gonzalez still has to contend with a disappearance in his power production. Gonzalez's power has been conspicuously absent for some time now, slamming just one homer since July 8. That's a noticeable drop off from seasons past, especially 2009 when he managed to hit 40 home runs despite playing half his games in Petco Park for San Diego.
Earlier in the week,
Red Sox
manager Terry Francona attributed Gonzalez's struggles to a stiff neck, something Gonzalez
denied to WEEI
.
"The neck has been fine," Gonzalez said. "It's something that flared up right before Chicago [July 30], when we were playing [Kansas City] in the day game [July 28]. It flared up the next day and it has been getting better ever since. It created a couple of mechanical things I've been working through."
"I'm not hitting because my swing isn't good right now, not because of my neck," he added.
Since slamming his last home run -- Gonzalez's 18th of the year -- on July 30, the first baseman has hit just .261/.325/.348 over 77 plate appearances. While Gonzalez may be right in denying that his stiff neck hasn't directly impacted his struggles, Francona isn't incorrect either. The neck doesn't have to continue hurting to cause struggles, something Gonzalez admits when he says his mechanics haven't been the same since.
"You always go through injuries. Injuries are usually the reason you create bad habits, and then after that once you get better you try to battle out of it, you get to a point where you feel good and you start going on a good streak," he said. "That's how the game goes. It's a long season, so it's not hard not to go through it. It's a long season. The only thing that matters is that I'm feeling good when the playoffs come around."
For more baseball news, rumors and analysis, follow @EyeonBaseball on Twitter or subscribe to the RSS feed.