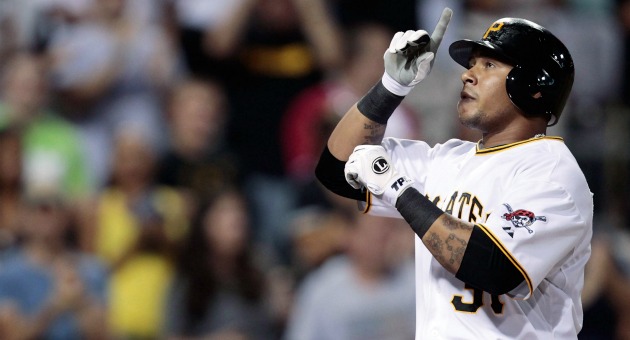 By Evan Brunell

The
Pirates
are following on the heels of teams such as the
Rockies
and
Rays
of recent years in locking up their young players to long-term deals despite these players being a ways away from arbitration, never mind free agency.
The
Pittsburgh Tribune-Review
reports the Pirates have agreed to a six-year deal with outfielder
Jose Tabata
and are deep in discussions with second basemen
Neil Walker
. Tabata only debuted last June, but has quickly integrated himself into the fabric of the team, hitting a cumulative .285/.348/.385 over 747 plate appearances the past two seasons, swiping 33 bags. Tabata, who turned 23 on Aug. 12 and was acquired from the
Yankees
in a 2008 trade, doesn't have much power but has hit exclusively at the top of the order for Pittsburgh and should remain there over the life of his new six-year, deal, which kicks in immediately and guarantees his deal through 2016. That means Tabata isn't signing away a guaranteed year of free agency, but did agree to three successive club options. In that vein, it's very similar to the four-year deal
James Shields
inked with the Rays for the 2008 season that has three club options built into the contract.
Don't expect a significant figure to be attached to Tabata's deal, even if it's for six seasons. That's because Tabata is giving up the chance to earn significant money through arbitration in exchange for cost-certainty. Instead of taking the risk of being worth a $10 million deal in the final year of arbitration in 2016, Tabata will take guaranteed money that he will receive regardless of injury or attrition. As an idea of what Tabata could receive on the free-agent market, first note that the first two years of the deal will be close to the league minimum -- a total number of $1 million over the next two years sounds right. For purposes of arbitration, let's use
Michael Bourn
, who is a close-enough approximate of Tabata. Bourn played for $2.4 million in his first year of arbitration and is now currently on a $4.4 million deal. He figures to make around $7 million in 2012, his final season before free agency. That gives a total price of $13.8 million. Add in the first two years of Tabata's deal, and now you have a framework for what Tabata will sign. So let's say six years and $15 million.
(
Update
: Tabata will earn $14.25 million over the life of the contract, as
ESPNDeportes.com
reports, saying Tabata's deal increases his 2011 salary to $500,000, plus a $1 million signing bonus. Next season, Tabata will earn $750,000, and then jump to $1 million in 2013, $3 million in 2014, $4 million in 2015 and $4.5 million in 2016. The club options can total up to $37.25 million. ESPN Deportes also noted that Tabata and his agency, ACES Inc., parted ways due to contract negotiations.
"There were philosophical differences over some aspects of the contract, but there's still a lot of respect," a source said of the parting. "In the best interest of both, the parties decided to separate, without ruling out the possibility of working together again."
The Pirates are hoping to lock up Neil Walker to a similar deal that Tabata will be playing under. While a final agreement is not near, the two sites have had advanced talks, team and league sources told the
Tribune-Review
.
Unfortunately for Pittsburgh, talks stalled with center fielder
Andrew McCutchen
, who is already one of the best center fielders in the game and would certainly charge a higher price to sign a long-term deal. While it's not known how much McCutchen is asking for, it's possible he won't be as willing to trade future earnings for cost-certainty, or that the Pirates feel a long-term deal at a higher cost is beneficial.
For more baseball news, rumors and analysis, follow @EyeonBaseball on Twitter or subscribe to the RSS feed.