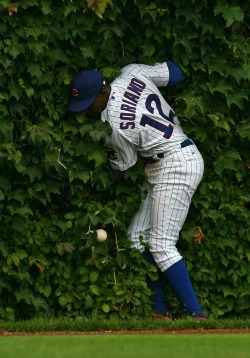 By C. Trent Rosecrans
During Tom Ricketts' press conference announcing the firing of general manager Jim Hendry, the Cubs owner made it a point that the next general manager would have to focus on "player development," which means (relatively) cheap draft picks and young players under team control instead of quick-fix, big contracts.
The latter are the types of moves that Hendry's tenure in Chicago will be remembered for, and here's the four that he will be remembered for:
1. Alfonso Soriano, eight years, $136 million: After the Cubs went 66-96 in 2006, Hendry made a splash in the offseason giving Alfonso Soriano a long-term deal. But like the fat kid doing the belly flop, the splash was just an opportunity to point and laugh. Soriano is a natural designated hitter, which is a problem in the National League. Soriano is in his fifth year with the Cubs and has hit 126 homers in that time, but coming off a 46-home run season in 2006, he's not hit more than 33 in any year with the Cubs, despite playing in homer-friendly Wrigley Field. As a Cub, he's hit .267/.320/.499 and become a favorite whipping boy for Cub fans who have no shortage of players to complain about. He's also due to make $19 million each of the next three seasons and will be 38 in his final season in Chicago.
2. Carlos Zambrano, five years, $91.5 million: The Zambrano contract is the albatross that just keeps on giving, isn't it? Currently on the disqualified list, the Cubs may get $3 million back from Zambrano's lost income during the 30 days he's on the list, but that also puts it into perspective that the Cubs are paying him $3 million a month. When Zambrano signed in Aug. of 2007, he was 26 and coming off a 16-7 season with a 3.41 ERA. However, that was 2006. In 2007 he was 14-9 with a 3.86 ERA on the season and was less than two months removed from a fight in the dugout with his catcher and had just weeks prior blasted Cubs fans. You can't say there weren't warning signs that a five-year deal may not have been the best idea.
3. Milton Bradley, three years, $30 million: If Zambrano's temper wasn't evident enough, there was no doubt that Bradley was a time bomb that wouldn't last three years in a Cubs uniform. The supremely talented outfielder had never spent three full seasons anywhere when Hendry handed him a three-year deal. Hendry gave Bradley the deal on the strength of an American League-best .999 OPS, but he had played in just 126 games and hit 22 homers at Rangers Park, a hitter's paradise. He hit just .257/.378/.397 in 124 games for the Cubs in 2009 and lived up to not only his reputation, but the standards of clubhouse buffoonery set by another Cub to play right field and wear No. 21, Sammy Sosa. In June of 2009, Bradley threw a temper-tantrum in a game against the White Sox and manager Lou Piniella told him to just go home. The Cubs suspended him for the rest of the season late in September after Bradley blasted the Cubs organization. He was traded to Seattle for another horrible contract (Carlos Silva) after the season.
4. Kosuke Fukudome, four years, $48 million: Searching for the next Ichiro, Hendry instead got the next Kaz Matsui. Fukudome got off to a hot start with the Cubs in 2008, but quickly faded. He never became much more than a decent player, if that. In three-plus years with the Cubs, he hit .262/.369/.403 with 37 homers before being traded to the Indians at the trade deadline for two minor-leaguers.
For more baseball news, rumors and analysis, follow @eyeonbaseball on Twitter or subscribe to the RSS feed.