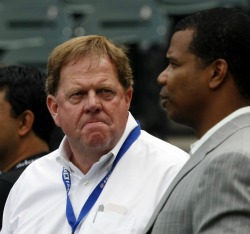 By C. Trent Rosecrans
The Cubs have announced they have fired general manager Jim Hendry. However, during his meeting with the press, Hendry announced the move became official today, but had been told July 22 that he wasn't coming back, but was kept until after the deadline to sign draft picks.

The embattled Cubs general manager had served as the team's general manager since July of 2002.
According to several reports, the Cubs clubhouse was closed before Friday afternoon's game against the Cardinals as Hendry addressed the team.

Asssistant GM Randy Bush will serve as interim general manager.

"My family and I appreciate Jim's dedication during our time with the Cubs and thank him for his overall 17 years of service to the Cubs organization," owner Tom Ricketts said in a press release from the team. "It is time for a fresh approach in our baseball leadership and our search begins immediately for our next general manager."

Under Hendry, the Cubs went 749-748. He had been with the Cubs since 1994 when he joined the team as director of player development.

Even before Carlos Zambrano's recent meltdown, Hendry was seen as on thin ice with the Cubs. During his tenure, he weighed down the team with hefty contracts to the likes of Zambrano (five years, $91.5 million), Alfonso Soriano (eight years, $136 million), Kosuke Fukudome (four years, $48 million) and Milton Bradley (three years, $30 million), who were overpaid and underproduced. Even this season at the trade deadline, he did unload Fukudome, but was otherwise silent, which sparked this screed from our own Matt Snyder, which sounds odd now considering Hendry said he was handcuffed at the time.
For more baseball news, rumors and analysis, follow @eyeonbaseball on Twitter or subscribe to the RSS feed.