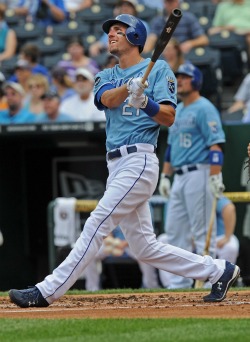 By C. Trent Rosecrans
At the trade deadline, Royals general manager insisted he wanted to keep both Jeff Francoeur and Melky Cabrera around -- and few believed him, or at least believed it was a good idea. While the later may still be true, the former can't be doubted for Francoeur at least, as the veteran outfielder signed a two-year extension with the Royals through the 2013 season.
The Royals signed Francoeur to a one-year contract before the season and he's played well for the Royals this season, hitting .278/.328/.465 with 15 home runs and 66 RBI in 119 games. He's also a veteran presence on a team that is loaded with young talent, although much of it is in the infield.
Francoeur has long been a favorite of Royals general manager Dayton Moore, the Royals' general manager who started his career in the Braves system, like Francoeur. And not only that, he's fit in well with the Royals, who have been the darling of many for their talented minor league system, but his eventual replacement, Wil Myers, is still just 20 years old and seen his numbers drop a bit at Double-A Northwest Arkansas. The best-case scenario is Myers coming up sometime in 2013 and Francoeur to be able to serve as the bridge to Myers in right field.
While just 27, Francoeur is a favorite on the internet for backseat GMs, despite putting up a 2.3 WAR this season according to FanGraphs.com and a positive WAR in all but one season in his career. Still, the internet often paints him as the worst player in the history of baseball for his lower-than-average on-base percentage (.312 for his career) and the unforgivable sin of being a nice guy and having writers write about him being a decent human being.
Is Francoeur the worst player in baseball? Hardly. Is he the best? Hardly. In all, he's a decent player who has the potential to be above-average and at worst, a good guy to have in the clubhouse -- which we all know doesn't matter on Twitter or in your fantasy league.

With Francoeur and Cabrera (another decent player with expectations that are inflated by having played in New York), the Royals have two above-average type outfielders to go along with Alex Gordon, making a decent outfield -- at least the best Kansas City has had since the days of Johnny Damon, Carlos Beltran and Jermaine Dye in the early 2000s. Cabrera, 27, is arbitration-eligible this season and a free agent after next season. He could be a valuable player at next year's trade deadline and hold a spot for Lorenzo Cain, the center fielder the Royals acquired in the Zack Greinke trade.

So while Twitter may see this as a joke, it's actually a nice move for the Royals who are building for the future well beyond the two years they have Francoeur under contract. The contract is for $13.5 million over the two years, the Kansas City Star's Bob Dutton tweets, probably a bit of an overpayment, but it's hardly cripling for the Royals who have just four other players under contract for next season, it's unlikely Francoeur stretches the budget to any sort of breaking point and he makes the team better now and in the future.
For more baseball news, rumors and analysis, follow @eyeonbaseball on Twitter or subscribe to the RSS feed.