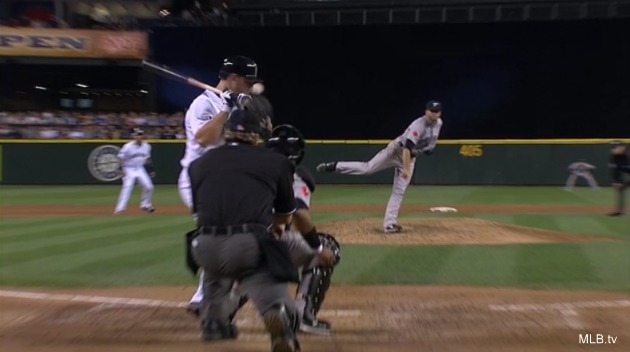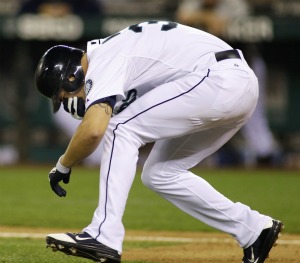 By C. Trent Rosecrans
In one of the scariest things you'll see on a baseball field, Seattle's Casper Wells took a 97 mph fastball to the face. The good news is that it got "just" the tip of Wells' nose and X-rays showed no broken bones.
Take a look for yourself, MLB.com has the video here.
Wells, who entered the game having homered in his last four games, was 0 for 2 in the sixth inning when Brandon Marrow's fastball came up and in on Carp, hitting him on the tip of the nose.
"It just felt like my nose fell off pretty much," Wells told Geoff Baker of the Seattle Times after the game. "I had a little bit of a headache. I couldn't see, which was scary. My eyes got all watered up and I couldn't see what was going on. It felt like it squared me up right in the face. But watching the replay, I kind of got out of the way.
"It was just really scary more than anything. Coming right at my face and I just couldn't get out of the way of it."
Morrow, 27, was the Mariners' first-round pick in the 2006 draft (fifth overall), but was traded to Toronto after three inconsistent seasons in Seattle following the 2009 season. Since moving to Toronto, he's had his ups and downs, but Wednesday he was at his best, striking out 12 and allowing just three hits in six innings.
However, after the game Morrow was thinking about Wells, and used Twitter to send his apology -- the Jays left to go to Oakland after the game, so he couldn't stick around. Here's Morrow's public apology:



While Morrow wasn't able to apologize in person, Wells seemed to be OK with the Twitter apology. Here's his response:



See how easy it is when everyone acts like an adult? Morrow wasn't trying to hit Wells, a pitch -- even on a night when he had great control -- got away from him and created a moment that was pretty scary for everyone who saw it, none more than Wells, I'm sure, but second on that list had to be Morrow. Even though Tony La Russa would likely disagree, this matter is closed and everything is OK.
HT to Yahoo's Big League Stew.
For more baseball news, rumors and analysis, follow @eyeonbaseball on Twitter or subscribe to the RSS feed.