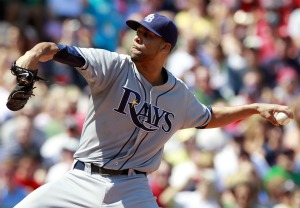 By C. Trent Rosecrans
For the first time since Juan Cruz threw an inning of mop up duty in a loss to the Yankees on Saturday, Rays manager Joe Maddon made the call to his bullpen for the ninth inning of Wednesday afternoon's game against Boston.
After a rainout on Sunday and an off day on Monday, the Rays threw back-to-back complete games in Tuesday's doubleheader split against the Red Sox before Price went 8 in Tuesday's game against the Red Sox. Pitching coach Jim Hickey went to the mound after Price walked Dustin Pedroia with two outs, but Price stayed in and on his 116th pitch of the game, threw a 96 mph fastball past a swinging Gonzalez for strike three to finish his game. Price allowed just three hits and struck out six, walking three in eight shutout innings.
Kyle Farnsworth came in for the ninth inning to nail down the 4-0 Rays victory, getting two line drives to right and a grounder to end the game.
As for Tuesday's complete games by James Shields and Jeff Niemann, the Rays public relations staff had a couple of notes from the Elias Sports Bureau in their game notes, among them:
• The last time a team had two complete games in one day was on Aug. 13, 1993, when the Brewers' Angel Miranda and Ricky Bones did it against the Tigers -- back when the Brewers were an American League team.
• The last time a team threw two complete games in one day at Fenway Park was with Luis Tiant in a different uniform, as Tiant and Sonny Seibert threw complete games against the Red Sox for the Indians on June 29, 1969.
• The last time two pitchers on the same team threw complete games on the same day at Fenway Park was when Dennis Eckersley was a starter for the Red Sox and he and Mike Torrez threw complete games against the Tigers on Sept. 23, 1979.
• The last time two teammates threw complete games while allowing three hits or less was when Boston's Matt Young and Roger Clemens did it on April 12, 1992 -- as Young lost without allowing a hit and Clemens won on a two-hitter.
• It was the first time the Red Sox have been held by an opposing team to three hits or less in back-to-back games was Sept. 2-3, 2000 against the Mariners. Of course, the Rays made that three games in a row on Wednesday.
For more baseball news, rumors and analysis, follow @eyeonbaseball on Twitter or subscribe to the RSS feed.