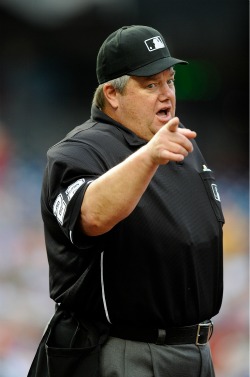 By C. Trent Rosecrans
As soon as Jim Joyce made his infamous call costing Armando Galarraga a perfect game last year, we heard many in the game leap to Joyce's defense, calling him one of the best umpires in the game. A Sports Illustrated poll of players upholds that, but also finds another controversial name in its top five umpires in the game, as Joe West came in fifth with five percent of the vote.
Of course, a similar poll by Sports Illustrated had West the overwhelming choice as the worst umpire in baseball with a whopping 41 percent of players responding naming West.
As for the best, Joyce was the leader by a wide margin with 35 percent of the vote, followed by Tim McClelland (18 percent), Jim Wolf (7 percent), Laz Diaz (6 percent) and then West.
The poll was conducted in spring training and had 237 players respond to the survey.
While West got votes as best and worst, the other four umpires in the top five combined for just 1 percent of "worst" votes.
McClelland, 60, got 28 percent of the vote from players in their 30s, still second to Joyce, but not by much. McClelland was less popular from the younger players, getting just 12 percent of the vote from players younger than 25. Position players also preferred McClelland to pitchers (23 percent to 13 percent).
Joyce blew the call for Galarraga's perfect game last year, but he earned high praise for the way he handled the situation, admitting his mistake and taking full blame for the miscue.
Joyce's contrition was the exact opposite of West's reputation as a bully and showboat. "Cowboy Joe" is known more for his quick temper than his country albums, although both are pretty bad.
It's still interesting that he was on both lists, but I would imagine some of it is from players who don't think West is as bad as his reputation. However, that five percent was outvoted by the 41 percent who did find him to be that bad.
The poll is only of players, but we know the Ron Washington's vote goes to Angel Hernandez.
For more baseball news, rumors and analysis, follow @eyeonbaseball on Twitter or subscribe to the RSS feed.