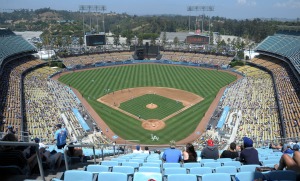 By C. Trent Rosecrans
For you optimistic Dodger fans (both of you), at least Dodger Stadium is half-full this year. To everyone else, it's half-empty.
While Major League teams announce paid attendance, not attended attendance, the president of the company that handles merchandise sales for the team testified in court that the Dodgers' turnstile count is projected to be just 2.2 million to 2.3 million, roughly half the capacity of 4.536 million for 81 home games at the 56,000-seat stadium, according to the Los Angeles Times.
The Dodgers are reportedly on pace to sell fewer than 3 million tickets this season, the first time that's happened in a full season since 1992 when the team lost 99 games. The team sold 3.86 million tickets in 2007 and 3.56 million last year.
Milton Arenson, president of FMI, testified that attendance at Dodger Stadium has been "horrific," before giving the exact numbers.
For more baseball news, rumors and analysis, follow @eyeonbaseball on Twitter or subscribe to the RSS feed.