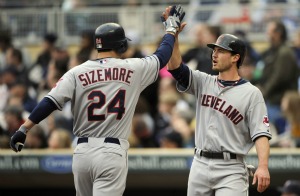 By C. Trent Rosecrans
After a couple of days of talking about Carlos Zambrano, let's look at the other side of the good teammate spectrum -- the tale of the Cleveland Indians and Jack Hannahan.
Hannahan is in his first year with the Indians, and after a hot start is hitting .214/.301/.331 with five home runs and 23 RBI in parts of 86 games. He's one of the best defensive third basemen in the game, and by all accounts a really good guy and teammate. However, he's not alone in the "good teammate" category in Cleveland.
Earlier this month the Indians were in Boston and Hannahan's agent Joe Speed got a call from Hannahan's mother that his wife was having contractions and my go into labor in a matter of hours.
Jenny Hannahan had been regulated to bed rest for nearly a month at this point, despite being barely in her third trimester of pregnancy. With Jack Hannahan and the Indians in Boston, it was apparent that the night was near.
So even while Hannahan was at bat in the game, Speed booked the first flight in the morning out of Logan airport in Boston back to Cleveland, even knowing that would likely be too late. His next step was calling about private planes. They were available, but they cost $35,000. Even though Hannahan has a contract for $500,000 this year, $35,000 is still seven percent of his annual salary -- that's a lot of money on a gamble that it would be the night Jenny gave birth.
After Hannahan was notified after the game of what was going on, he considered that, because it was the only way he'd be getting back to Cleveland before the morning. However, the price tag was just too high for the fiscally conservative Hannahan.
At some point after the game, teammate Justin Masterson asked Hannahan what was happening and as soon as Hannahan told him, Masterson told him get the private jet.
"Book it," Masterson told Hannahan, according to Charley Walters of the Pioneer Press. When Hannahan balked, Masterson insisted.
At that point, Masterson passed around a hat, getting donations from teammates. And pretty quickly, they had the $35,000 covered -- call it a baby shower gift from his teammates.
Hannahan booked the plane and once it landed in Cleveland, there was a limo waiting for him at the airport to take him to the hospital. Hannahan finally got to his wife at 3 a.m. and just 15 minutes later, John Joseph Hannahan V was born.
Although the youngest Hannahan was born prematurely and weighed just two pounds, 11 ounces at birth, Speed said son, mother and father are all doing well now, even though Hannahan's son has yet to come home.
These days you don't often get stories about the good guys -- instead I'll spend 10 hours writing 12 different stories on the actions of jerks -- but every once in a while you get a story like this, a good guy being helped out by more good guys. The Indians are two games back in the American League Central going into Tuesday night, but it's hard to think they're anywhere but first (or at least tied for it) in class.
For more baseball news, rumors and analysis, follow @eyeonbaseball on Twitter or subscribe to the RSS feed.