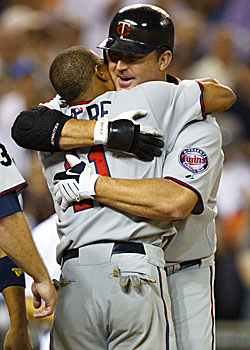 By Matt Snyder
Monday night, to far less fanfare than he deserved,
Jim Thome
hit the
599th and 600th home runs of his career
. When someone achieves a milestone in sports these days -- the days of social media where every fan in the world gets an anonymous voice with which to tear people down for kicks -- the conversation nearly immediately turns to the big picture. Is Jim Thome a Hall of Famer?
Honestly, I don't even understand how it's a discussion. The best possible outcome a hitter can achieve for his team at the plate is a home run. Only seven men have ever done that more than Jim Thome in the history of baseball. Period. End of discussion, right? Nope, there are still dissenters. The most common has something to do with Thome being a "one-dimensional" player, which is usually packaged with an attack on him being a designated hitter.
On the DH argument, one can't convince the people who believe DHs don't count, so it's not even worth trying. Nevermind that starting pitchers don't complete every game or relief pitchers are specialized. No, if he only bats, there's a certain segment of the fan community that utterly refuses to recognize a DH as a player. So we'll get past that.
As far as Thome being one-dimensional, that is completely false. Yes, he has power and that's the only reason he's still playing at age 40. Honestly, even if he is one-dimensional, I don't understand why it's bad. It's not like his one-dimension is he has a great throwing arm yet can't field. Or he's really fast yet can't get on base. His power is the best possible dimension you can have as a baseball player. You can score one run -- or more -- on one swing. Monday night he drove home five runs in two swings and the
Twins
won by three. No other aspect of a baseball player can do that. It's just that Thome is more than just home runs.
Look at Thome's on-base percentage. He has 2,263 hits and 1,710 walks. Add in the 68 times he's been hit with a pitch, and Thome has reached base over 4,000 times in his career, good for 42nd all-time. As Jayson Stark of ESPN tweeted Monday night, only Babe Ruth and Barry Bonds have a higher on-base percentage in the 600 home run club than Thome. He has 440 career doubles, too.
Only 16 players in baseball history have a better OPS. If you aren't familiar with OPS, here's the top five of all-time, for a point of reference: Babe Ruth, Ted Williams, Lou Gehrig, Barry Bonds and
Albert Pujols
.
And let's not forget Thome's personality. You can scoff if you want, but the Baseball Hall of Fame specifically tells voters to consider integrity and character. When Thome hit his 600th home run Monday night, the response on Twitter was overwhelming. From former teammates to long-time opponents to baseball writers to opposing managers to fans, the message was the same: There is
no one
in baseball nicer or a better person than Thome.
An All-Star from the opposite dugout echoed the sentiment Monday night
. One writer said he has never, ever heard a bad thing about Thome. And Thome's been in baseball for 21 years. That's pretty difficult to do, even for the best guys in the game. If you want hardware, Thome won the Roberto Clemente Award in 2002 (for sportsmanship) and the Lou Gehrig Award (for character and integrity both on and off the field) in 2004.
One argument I've heard against Thome's Hall candidacy is his lack of MVP pedigree, as he only finished in the top five once and the top 10 four times. My response to this is that he was playing clean in the PED era during his entire prime. You want an example?
Click here and look at the numbers
in the 2002 AL MVP voting, in which Thome finished seventh. He hit .304 with 52 home runs, 118 RBI, 101 runs and a 1.122 OPS and finished
seventh
.
A one-dimensional player who "only hits home runs" is
Wily Mo Pena
or Rob Deer. Maybe you wanna go back to Dave Kingman. That's fine, too. Just do not paint Jim Thome with that brush. He is much better than that and deserves better. He's a Hall of Famer in every sense of the word.
For more baseball news, rumors and analysis, follow @EyeOnBaseball on Twitter or subscribe to the RSS feed.