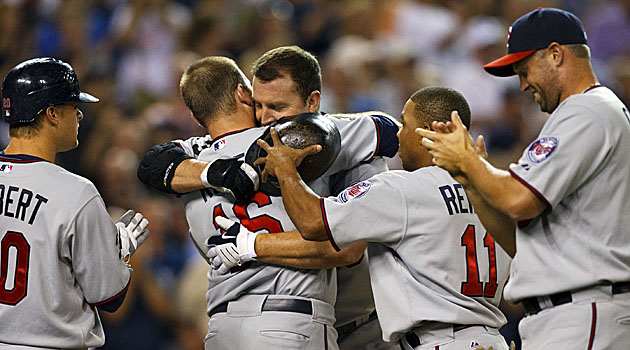 By Matt Snyder
Career HR Leaders
Player
Total
1. Barry Bonds
762
2. Hank Aaron
755
3. Babe Ruth
714
4. Willie Mays
660
5. Ken Griffey Jr.
630
6. Alex Rodriguez-y
626
7. Sammy Sosa
609
8. Jim Thome-y
600
9. Frank Robinson
586
10. Mark McGwire
583
Twins
designated hitter Jim Thome has joined one of baseball's most exclusive clubs. Monday night in the top of the sixth inning against the
Tigers
, Thome took
Rick Porcello
deep to left-center for a two-run home run. It was the 599th homer of Thome's long career. In the top of the seventh inning, Thome went to left field off
Daniel Schlereth
for his 600th home run. He drove home five runs in back-to-back at-bats to give the Twins a 9-5 lead.
Thome was greeted at home plate, after his 600th homer, by his family and his Twins teammates. He was also given a respectful, classy ovation from the Detroit fans on hand to witness the historical homers. The 600th home run ball went into the Twins' bullpen, so the story of what some fan will do with the ball goes away. Twins closer
Joe Nathan
retrieved the ball and it's now in the possession of Thome's son.
Thome is now the eighth man in the history of baseball with 600 career home runs. Alex Rodriguez was previously the most recent player to join the group, which had as few as three members at the turn of the millennium. Thome became the first player in baseball history to hit home runs 599 and 600 in consecutive at-bats. He also became the second-fastest to 600, in terms of at-bats, as only Babe Ruth had less at-bats when hitting his 600th home run. Thome also became the oldest man to reach 600 home runs, passing Sammy Sosa, who was 37 when he hit No. 600 in 2007.
Thome, 40, has been playing in the bigs for parts of 21 seasons with five different teams. He hit 334 home runs for the
Indians
, 134 for the
White Sox
, 96 for the
Phillies
and zero for the
Dodgers
. Monday night's home runs were the 35th and 36th for Thome in a Twins uniform in what amounts to a bit less than a full season's worth of at-bats. So he certainly still has great power.
One would guess hitting his 600th home run would mean Thome is Hall-of-Fame bound. He still has a career on-base percentage over .400, an OPS of .960 and more than 1,500 runs and RBI. Plus, everyone else in the 600-home run club is either in Cooperstown, headed there, or will be left out due to PED suspicion. Thome has never been connected with PEDs.
More Snyder on Thome: Thome's run at 600 deserved more attention
|
More to Thome than home runs
For more baseball news, rumors and analysis, follow @EyeOnBaseball on Twitter or subscribe to the RSS feed.