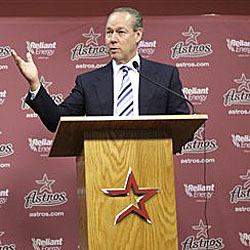 By Evan Brunell

Jim Crane's ownership of the
Astros
has been delayed, as MLB owners will not vote on Crane's takeover this week as planned, the
Houston Chronicle
reports.
Commissioner Bud Selig still isn't comfortable with recommending Crane to the rest of the owners for approval despite three months of research.
"The standard due diligence that must be completed before any transaction of this magnitude can close remains ongoing," MLB said in a statement. "Because that procedure is continuing, it is not expected that the proposed sale of the Astros will go to the approval process at this week's owners meetings. Major League Baseball will continue to work as expeditiously as possible to complete the process."
A source said he believed that Crane would eventually be approved, but "just [doesn't] know" if he will in actuality be approved, which has to be sobering news for current owner Drayton McLane, who has been trying to sell the 'Stros for some time now. The source did caution that the delay has nothing to do with a possible rejection of Crane; simply that the process has been delayed.
McLane was caught by surprise at the news, it has been said, as he was so certain Crane would be approved that McLane sought the hopeful owner's opinion on recent moves the Astros made, such as dealing outfielders
Hunter Pence
and
Michael Bourn
as well as firing pitching coach Brad Arnsberg.
The holdup doesn't appear to be due to financing the sale, but rather Crane's history of discriminatory practices with one of his companies in 1997, with thousands of complaints against Eagle USA Airfreight dealing with minority and female hiring practices. A judge found 203 of 2,073 claims to have merit, and Eagle was also sued 11 times in federal employment discrimination cases. Crane dismissed the issue back in May, but clearly MLB is taking it seriously. Commissioner Bud Selig is especially sensitive to the issues of minority and female hiring. Crane is also linked to war profiteering, with Eagle Global Logistics alleged to have inflated the cost of military shipments to Iraq. Eagle Global Logistics paid $4 million to settle the issue.
For more baseball news, rumors and analysis, follow @EyeonBaseball on Twitter or subscribe to the RSS feed.